New Board of Trustee Members Have Strong AU Ties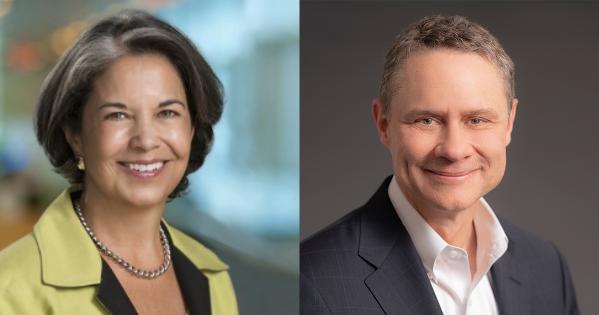 A former state department official and an accomplished business executive are joining the American University Board of Trustees. The appointments of Maria Otero and Wes Bush were unanimously approved by the board late last year.
Otero has a long history of public service. She served as US undersecretary of state for civilian security, democracy, and human rights under Secretary Hillary Clinton from 2009 to 2013. In that position, she oversaw US foreign relations on security issues such as population, refugees, human trafficking, narcotics, global criminal justice, and violent extremism. She also served as President Barack Obama's special representative for Tibetan issues. Otero was the highest-ranking Latino official at the State Department, and the first Latina undersecretary in its history.
Bush has had a distinguished career as a systems engineer and business executive. He is the former chairman and chief executive officer of Northrop Grumman Corporation, where he had a track record of building diverse teams and creating a culture of inclusive excellence. During his tenure, the company was named a Top 50 Company for Diversity by DiversityInc.com nine years in a row. He previously held positions as the company's chief operating officer, chief financial officer, and president of its space technology sector. Prior to that, Bush worked for TRW, which was acquired by Northrop Grumman in 2002. At TRW, he served as president and chief executive officer for the company's UK-based global Aeronautical Systems and as vice president of TRW Ventures. He joined TRW as a systems engineer in 1987 in its space business.
"With outstanding careers in government service, the corporate world, and the philanthropic sector, and strong ties to the AU community, Maria and Wes will bring invaluable insights and leadership as we continue the university's momentum and growth," said Board Chair Marc Duber. "Their appointments continue to broaden the skills and backgrounds among our trustees, which is critical to supporting our strategic plan and advancing our mission."
Both new trustees have connections to American University. Otero's husband, Joseph Eldridge (SIS/MA '81), served as AU's longtime university chaplain from 1997 to 2016. He also founded AU's Alternative Breaks program and holds an adjunct appointment as an SIS distinguished practitioner in residence.
Bush joined AU's Sine Institute of Policy and Politics in January 2019 as a distinguished lecturer. In addition, he and his wife, Natalie, through their Golden Paws Foundation, established the Ruby King Bush Scholarship fund in February 2020. The fund provides support to the AU/DCPS Teacher Pipeline Project, including a full scholarship for an undergraduate student in the program.
The Teacher Pipeline Project offers scholarships to a select group of DC public school students, allowing them to earn a bachelor's degree in education at no cost, in exchange for a five-year commitment to teach in DC public schools.
"I have experienced the thoughtful and purposeful work of American University students, faculty, and staff and seen their impact in our communities," Bush said, "Now I am excited to join the Board of Trustees as the university fosters research and knowledge and creates new opportunity and access for students. AU has a strong strategic vision, and I look forward to supporting this outstanding place of learning."
Otero echoed those sentiments. "American University inspires and prepares its students to take on the most pressing challenges in our neighborhoods and around the world and to affect change as members of a global community," she said, "With innovative approaches to learning and opportunities to make an immediate impact, this is a tremendous time to be a part of the important work happening across American University. Having seen the passion of the AU community firsthand for many years, I am thrilled to join the students, faculty, staff, and my fellow trustees to advance the university's mission."
The new trustees bring strong backgrounds in service and philanthropy. Otero, who was born in La Paz, Bolivia, was formerly president and chief executive officer of ACCION International, a leader in microfinance and economic development working in 26 countries. She has served on boards of directors including The Kresge Foundation, Smithsonian National Portrait Gallery, and Oxfam America. In 2000, President William Clinton appointed Otero to the board of the United States Institute of Peace, where she served for eight years. In 2006 she was appointed by Secretary General Kofi Annan to the United Nations Advisors Group on Inclusive Financial Sectors. She is a member of the Council on Foreign Relations.
Bush, who was raised in Morgantown, West Virginia, serves on the boards of directors at Cisco, General Motors, and Dow, as well as the boards of several nonprofit organizations including MIT Corporation, Conservation International, Inova Health System, Greater Washington Partnership, and Darden School Foundation. He is also member of the National Academy of Engineering.
With the Greater Washington Partnership, Bush is the inaugural chair of the Capital CoLab, a program to expand employment opportunities in the digital economy. AU is a founding partner of the program.
Bush and Otero are joining the board for three-year terms.