On Campus
Making Meaningful Change at AU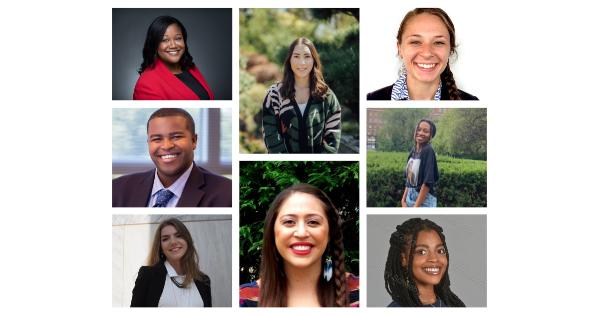 Katherine Boyko grew up in Ukraine and has watched the Russian invasion of her country closely with family still in the country. 
But Boyko, SPA/BA, CAS/BA '22, who will graduate this week, has been moved to action, coordinating relief efforts on campus and in Washington to send to those in need. 
Boyko and other impending graduates embrace the spirit of AU's Challenge Accepted campaign and will continue to make a difference in their communities following commencement. 
Elli Wachtman, SIS/MA '22, has worked to address gender-based violence in Kenya as the founder and executive director of the Sikhona Rescue Center. 
A member of the Klamath tribes, Juliette Jackson, WCL/JD '22, will work to increase access to pro bono advocacy, policy, and litigation services to tribal communities Impacted by climate change in California, Nevada, and Oregon. 
A scientist working with the Chan Zuckerberg Initiative, Fiona Griffin, OGPS/MS '22, has helped accelerate scientific progress through grants for research, technology and building and facilitating collaboration in the scientific community. 
Kylah Williams, Kogod/MS '22, will head to Mexico City following graduation to work on marketing with a bilingual focus and will try to help companies reach and retain Spanish-speaking consumers. 
Pushed by a lack of representation in the entertainment industry, Zach Gradishar, SOC/BA '22, hopes to build diversity in his field through his work in public relations or production. 
A Frederick Douglass Distinguished Scholar, Gianna Williams, CAS/BS '22, has researched tailoring an approach to education and tutoring though interactive multimedia and increasing representation of people of color in STEM fields. 
Shayna Cook, SOE/EdD '22, focuses on centering the expertise of Black women educators in the field of early childhood education. 
Here's what these changemakers said about their time at AU. The following comments have been edited for clarity and length. 
Tell us about a challenge you see in the world in your area of study and how you plan to take it on. 
Katherine Boyko, SPA: Economic inequality in the US is one of the issues that I am focused on. This past semester, I conducted a study looking at the characteristics of small businesses in the retail industry that make them more vulnerable to decreased business performance during the pandemic. I also hope to work on helping minority and immigrant small business owners through financial consulting and risk management. As a first-generation immigrant myself, I saw the struggle of adapting to the economy of this country firsthand and hope to use what I learned through personal and academic experiences to help others succeed. 
Katherine Boyko
Shayna Cook, SOE: My research was designed to examine how effective it is to share with philanthropic leaders the counternarratives and perspectives of Black women, who are home-based early childhood educators. When early childhood funders focus on the expertise of those with lived experience and those who are most impacted, they are more likely to develop funding strategies, and ultimately make funding decisions, that align with how those closest to the work identify their problems and solutions. 
Shayna Cook
Zach Gradishar, SOC: One challenge I see in the world of entertainment is the lack of representation when it comes to people of color. Growing up I didn't see a lot of people who looked like me in the field. I hope to change that and help increase not only representation in front of the camera but behind the camera as well. I also think mentorship is very important, especially for minority communities. Once I obtain success, I hope to be in a position where I can help mentor the younger generation of color as they find their careers in the entertainment industry. 
Fiona Griffin, OGPS: My biggest responsibility as an evaluator is to ensure that my practices are not perpetuating inequitable systems and structures that have historically disadvantaged and marginalized communities, including, Black, Latina/o/x, and Indigenous communities. Evaluators need to ask critical questions about these underlying systemic drivers of inequity and ensure that representative voices are at the table. I will forever be in a place of learning in this work, but I look forward to learning from field experts and my own community in this space. 
Fiona Griffin
Juliette Jackson, WCL: Access to legal resources is an issue for many people, especially tribal communities. Tribes are being impacted by climate change and the long-term effects of colonization in various ways. Wildfires and droughts are becoming commonplace and if we do not act soon, we risk losing unique cultures, species, and ecological habitats. The goal of my project – the legal advocacy program for the Indigenous nonprofit Sacred Lands, Native Hand – is to implement an equitable and sustainable nonprofit model for underserved tribal communities in the western region of the U.S., who are interested in ecological conservation to combat the effects of climate change. 
Elli Wachtman, SIS: Gender-based violence is the most pervasive human rights violation facing our world today. Particularly in Kenya, severely imbalanced gender norms have fostered a culture of discrimination and abuse. I intend to combat these egregious injustices through my leadership at Sikhona Rescue Centre, an international nonprofit dedicated to housing and empowering survivors of gender-based violence in Kitengela, Kenya. Our goal is to meet the most basic needs of our survivors and cultivate a community to stand up against gender-based violence.   
Gianna Williams, CAS: I have been volunteering at Black Girls Code, a nonprofit based in DC that creates systems that better help Black girls get interested in computer science and STEM technology. I want to help people who look like me and create spaces and technology that digitally resists places of oppression.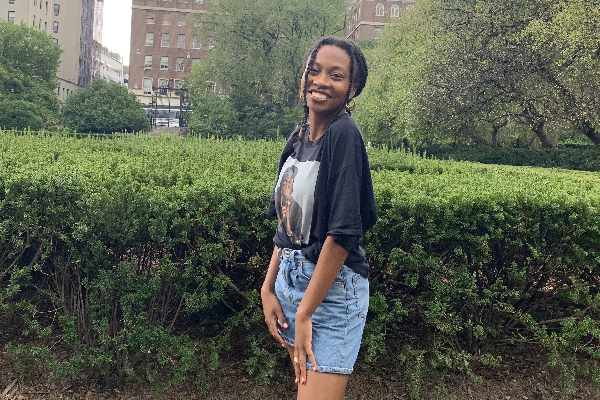 Gianna Williams
Kylah Williams, Kogod: The need to understand consumers' cultural differences rather than critique them is essential in the creation of an inclusive marketplace. With Spanish being the second most spoken language in the US, it is important that marketers take into consideration the cultural needs of their consumers when launching marketing campaigns. If companies can capture Spanish speaking consumers authentically in the awareness phase of marketing by using their native language in campaigns, they have strong potential to acquire the customer and retain them. Through cross-cultural market research, I hope to learn more about the buying cycle for Spanish speaking consumers to see how American companies can better serve this market linguistically.
How did AU inspire a commitment to service? 
Shayna Cook, SOE: I have always had a strong commitment to service, but American University trained me be a researcher who is dedicated to serving the community, not from the Ivory Tower, but in deep partnership with and service to the community. 
Fiona Griffin, OGPS: The best way to have a service mindset is to keep it front and center. My courses at AU were always tying the day-to-day work back to the bigger picture — how we can shape the projects and learnings to serve our partners and communities. 
Katherine Boyko, SPA: My time at AU inspired my commitment to service even before I started my first class. I got involved with Explore DC and got involved in community service. Through the program, I learned about the issues important to the area, which equipped me to pick the causes most crucial to the area. Knowing about the high rates of homelessness from Explore DC inspired me to partner with Martha's Table to organize a donation for coats for more than 1,000 in the DC region right before winter. 
Elli Wachtman, SIS: American University's commitment to service is absolutely contagious through the courage with which the institution demands change, but most importantly in the confidence it instills in each of its students.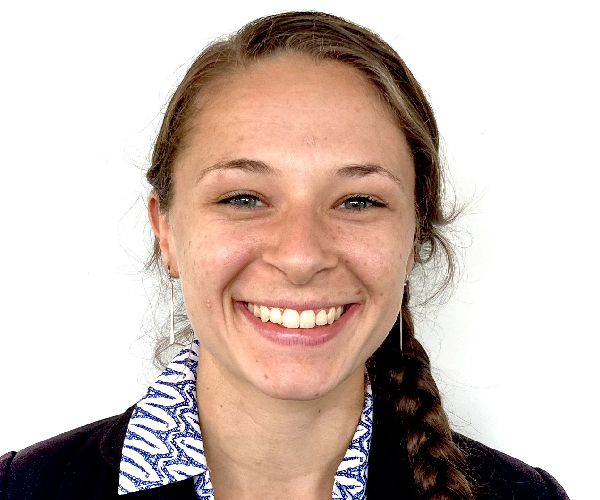 Elli Wachtman 
Kylah Williams, Kogod: AU inspired a commitment to service through its faculty, professors, and the community that it creates. It makes you want to be a part of something bigger. It takes a village to get your where you want to be, and AU supports that village. 
What advice do you have for incoming or current students? 
Zach Gradishar, SOC: Take advantage of all opportunities that may come your way. You must take the initiative and be proactive when it comes to not only your education but your professional career. Do not be afraid to go outside your comfort zone whether that be applying for your first internship, running for a leadership position on campus, or setting up office hours with your professors.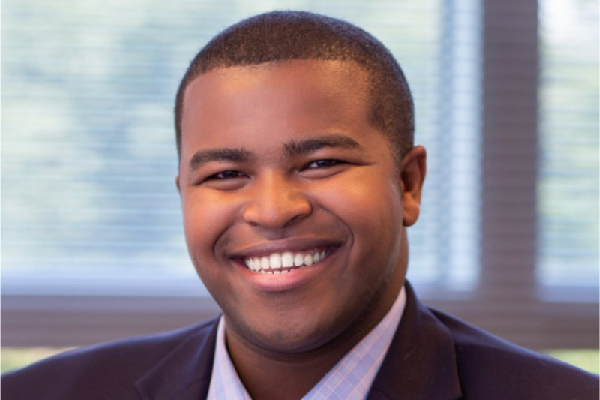 Zach Gradishar
Fiona Griffin, OGPS: Remember to enjoy the learning process. It is so easy to get lost in due dates for assignments and stress about the amount of work you need to do (and there is a lot of work!). But remember that it is a privilege to be here. Your coursework should be fun, exciting, and challenging. 
Juliette Jackson, WCL: People say half the battle is showing up, but you also need to stay informed, and check and respond to your emails. If you do not, then you will likely miss out on those opportunities that could open more doors for you.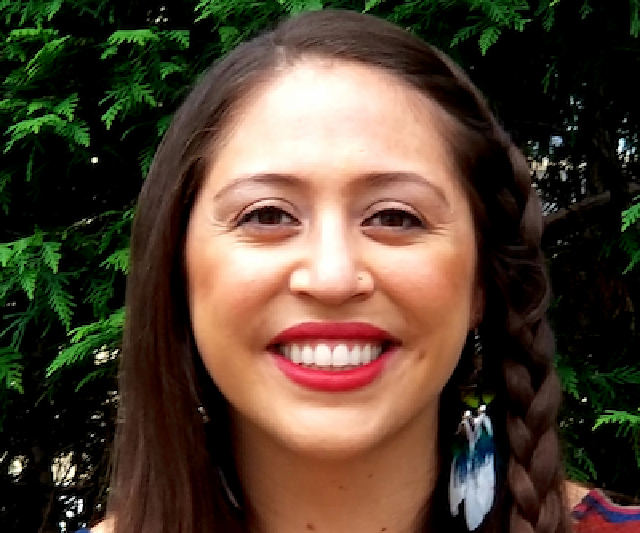 Juliette Jackson
Elli Wachtman, SIS: There's a learning opportunity in every moment. Embrace it with humility and never stop growing.  
Kylah Williams, Kogod: Take advantage of opportunities. I am a firm believer that an experience is what you make of it, and I am walking proof of that. I took advantage of everything. I competed in case competitions to get experience and exposure, I traveled abroad to take advantage of AU's global connections. I applied for funding from AU and Kogod to support initiatives I wanted to be a part of and attend marketing conferences that I was interested in. I worked two on-campus jobs to not only give back to the AU community, but to connect with successful educators who have imparted great wisdom into me. I attended events on campus, networked in the student lobbies and built connections which have been invaluable for me.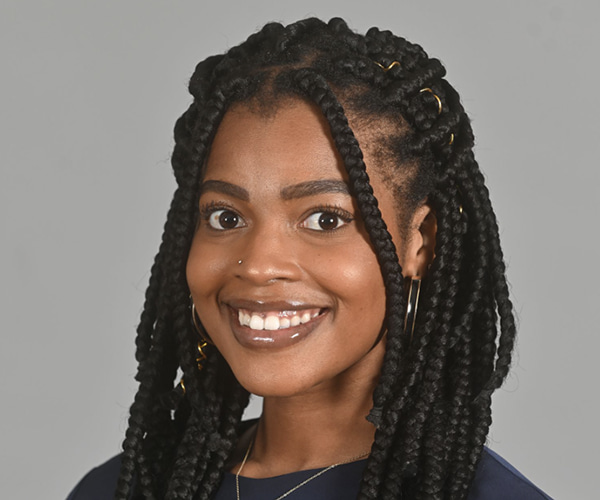 Kylah Williams 
Katherine Boyko, SPA: AU is a place where you can feel empowered. The number of new initiatives, protests, and clubs started each year is proof that your words matter and that there are opportunities on this campus to stand up for what you believe in. Don't be afraid to stand up for what is important to you. AU is a place where you can find like-minded people and jump-start efforts in fighting for what you believe in. 
Do you know a changemaker in the AU community who has taken on a challenge facing the community or the world? Please nominate them here.