On Campus
AU Counseling Center Expands Services to Meet Anticipated High Clinical Demand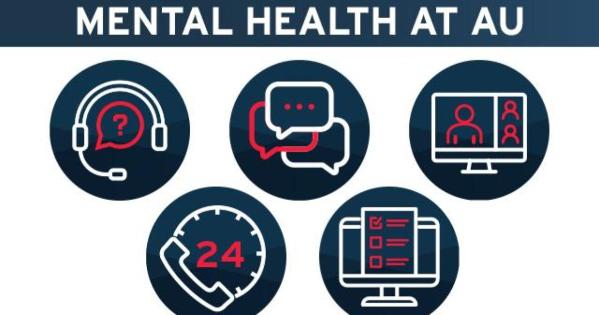 Jeffrey Volkmann and his AU Counseling Center team predicted a high clinical demand this fall. 
Students, staff, and faculty returned to campus after a 2020 with the COVID-19 pandemic, the social justice movement, and a contentious election season, among other crises. 
Volkmann, the center's executive director, was right. A record number of patients visited the Counseling Center in September.  
Anticipating the demand, the Counseling Center added three full-time positions and repurposed another position to increase the clinical work of that job. Volkmann said an average clinician may work with 20 people a week over the course of the semester, so the additional staff adds hundreds of available clinical hours. The team also has expanded emergency services and added more robust wellness options such as My SSP, You@American, and QPR (Question, Persuade, Refer) training.  
Mental health is an important factor for the success of students, even without the backdrop of an especially contentious world. 
"Healthy students are also academically successful and more likely to graduate," said Traci Callandrillo, assistant vice president of Campus Life—herself a trained clinician and the previous executive director of the Counseling Center. "We draw from the literature in developing our approaches regarding student success factors, which demonstrates both the need for and positive impact of mental health support during students' college years." 
The Counseling Center team is intentionally diverse and welcoming. Seven of the current 11 staff members identify as people of color, and the team has several hidden identities (for example first-generation college students, international backgrounds, and members of different faiths) to help meet the community's needs, Volkmann said.  
It also continues to offer virtual services as it has since the pandemic began—90 percent of students said they prefer virtual services—but has added back in-person appointments for those who want them. "We know that some students have roommates and can't find private spaces and feel more comfortable working with us in in-person settings," Volkmann said. 
Because of the pandemic, the Counseling Center team also worked with its crisis prevention line vendor to expand and revamp the center's emergency response services. Previously, the center set aside two hours of the day for walk-in appointments to assist students in crisis, but, with Center for Disease Control guidelines, the potential for overcrowding became untenable.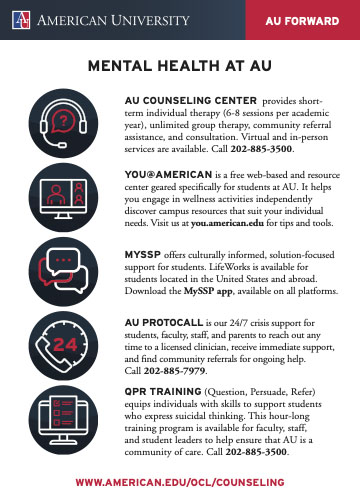 The solution is AU Protocall, a new system that connects students by phone any time of the day or night to a licensed clinician, who can help them navigate through an immediate crisis. If the student needs to see a member of the Counseling Center team, the clinician arranges for that in-person crisis intervention.  
"It's been the case so far that most are able to work through the immediate crisis on the phone and then afterwards set up an appointment with us," Volkmann said. 
Another wellness option for students is a new app-based student support service called My SSP, which offers culturally informed, solution-focused emotional health and well-being support around the clock. Users can receive this support through texts and can schedule appointments with support staff.  
The app is available on all platforms for students located in the US and abroad, and the Counseling Center hopes to reach students in need studying abroad, students in online programs, or ones who can't be in DC. "It was challenging for us to provide coverage for students out of state," Volkmann said. "We have very strict licensing laws (in DC). And it's difficult to work with students who aren't in the district because of the licensing laws that we adhere to." 
You@American is a free web-based resource center geared specifically to AU students that helps them engage in wellness activities and discover campus resources that suit their individual needs. The tips and tools include options for goal setting, articles about wellness, and guidance for accessing resources available to university students like the Career Center, Counseling Center, Tutoring Lab, and others.  
Finally, students, faculty, and staff can sign up for QPR (Question, Persuade, Refer) training that helps participants with skills to support those who express suicidal thinking. So far, members of the Office of Campus Life, Washington College of Law, University Communications and Marketing, and the President's Council have received the hour-long QPR training. Jacquelin Darby, assistant director for outreach and consultation at the Counseling Center, manages the QPR program and handles requests for the training.   
"I think that all members of the AU community should take part in building a community of wellness," Volkmann said. "QPR training will help members of the AU community support one of the most at-risk populations at the university."