Government & Politics
Innovative Mayors Join Sine Institute as Distinguished Lecturers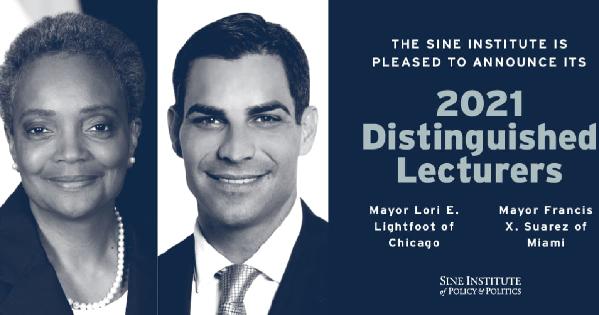 The Sine Institute of Policy and Politics. welcomes two of American's most heralded and innovative mayors as distinguished lecturers. Chicago mayor Lori E. Lightfoot and Miami mayor Francis X. Suarez will share their insights and concerns with students, faculty, staff, and alumni over the next year.  
They, along with Sine's class of Spring 2021 Fellows, will engage the AU community in wide-ranging discussions about the most pressing policy issues of our time. Lightfoot, a Democrat, is the first LGBTQ woman of color to serve as mayor of the nation's third-largest city, and Suarez, a Republican, is the first mayor of Miami born in the city.  
"Cities and communities experience the effects of policy and politics every day, and mayors have frontline experience and insights that are critical to developing solutions to our most pressing challenges," said American University President Sylvia M. Burwell. "Mayors Lightfoot and Suarez continue the Sine Institute tradition of bringing problem-solvers to AU who help our community turn purpose into impact." 
Since assuming office in May 2019, Lightfoot has undertaken an ambitious agenda of expanding opportunity and inclusive economic growth across Chicago's neighborhoods and communities. In response to the unprecedented COVID-19 crisis, she has led a coordinated, citywide response aimed at addressing the public health and economic impact of the pandemic. She created a Racial Equity Rapid Response Team and a COVID-19 Recovery Task Force, among other initiatives. 
"Cities have become our nation's centers for policy innovation and inclusive economic development, and I am thrilled to be joining Mayor Suarez to discuss the many challenges and opportunities facing us during this critical moment in our history," said Lightfoot.  
Suarez, who was elected mayor in 2017, has reduced crime and decreased taxes to one of their lowest points in more than 50 years, looking to boost and expand the city's economy. As part of his Miami Forever Plan, Suarez has taken aim at climate change and integrating climate-adaptive technologies with building practices and economic policies. Suarez has also pursued a package of affordable housing reforms, leveraging federal opportunity zones and underutilized land in order to increase access to affordable housing and home ownership for working people and communities of color.  
"I couldn't be more excited to be playing a role in shaping the minds of our future leaders. American University has a rich history in the development of the brightest political minds in the United States, and I'm proud of the opportunity to be a part of it," said Suarez.   
Since 2018, the Sine Institute has been bringing students together with national and global experts to discuss and search for solutions to issues ranging from women's empowerment and presidential elections to domestic and foreign policy and the role of business in a civil society. During the spring semester, AU students will have the opportunity to join conversations about a wide range of topics including national security, workplace expansion, global challenges, and economic justice.  
"We are delighted to welcome Mayors Suarez and Lightfoot as distinguished lecturers to the Sine Institute," said Amy Dacey, executive director of the Sine Institute of Policy and Politics. " They have demonstrated hands-on leadership at a time of unprecedented turmoil. As the Sine Institute's distinguished lecturers this year, their insights will help our community think critically about how we move forward from this tense and tragic time."