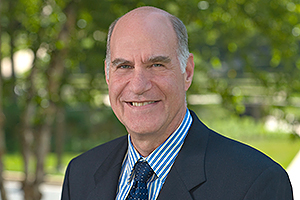 Dr. Scott A. Bass is Provost at American University. As the chief academic affairs officer, he leads AU's seven schools and colleges, the University Library, enrollment management, financial aid, and other academic affairs units. Bass also holds the appointment of Professor of Public Administration & Policy in the AU School of Public Affairs.
Since his arrival at AU in 2008, Bass has focused on strategic planning, diversity, and strengthening the academic infrastructure. One of his signature planning initiatives, AU 2030, identified groundbreaking academic areas for long-term investment, invigorated cross-disciplinary faculty collaboration, and was instrumental in the recruitment and hiring of over 200 new full-time faculty. Along with faculty recruitment, Bass was successful in increasing the student body's racial, ethnic, socioeconomic, and geographic diversity through greater investments in need-based financial aid, while simultaneously increasing academic standards and selectivity. He also expanded living-learning programs and established several special academic programs to attract highly talented students.
Following AU's decennial Middle States accreditation process, the visiting team recognized the transformation that the university has undergone as result of many of Bass's initiatives. Following enhancements to the university's research infrastructure and increases in doctoral programs, the Carnegie Classification of Institutions reclassified AU as a "Higher Research University." Most recently, AU's admissions rate reach a historic level of institutional selectivity. His current leadership project, Reinventing the Student Experience (RiSE), focuses on creating a model student services experience that is matched to the needs of tomorrow's technology-enabled, diverse students.
Bass began his academic career at the University of Massachusetts Boston, where he was the founding Director and Administrator of the Gerontology Institute and the founding chair of the gerontology program. There, he also established and directed one of the nation's first PhD programs in gerontology. He later served as the Vice President for Research and Dean of the Graduate School at the University of Maryland Baltimore County (UMBC), playing a leadership role in UMBC's dramatic expansion in research and graduate education. A Fellow of the Gerontological Society of America, Bass was awarded the prestigious Donald P. Kent Award for exemplifying the highest standards for professional leadership in gerontology through teaching, service, and interpreting gerontology to the larger society.
Bass has served on the Educational Testing Service (ETS) Higher Education Advisory Council, the Board of the Council of Graduate Schools, and the ETS and the Council of Graduate Studies Commission on the Future of Graduate Education in the United States. He received his PhD in the combined program in psychology and education at the University of Michigan. He has written or edited 8 books and 45 articles, earned a Fulbright Research Scholarship to Japan, and was a visiting professor at Stanford University in 2004. He is widely recognized as an innovator in higher education.