Emily Naylor
November 18, 2019 | HEY AGAIN! I have officially spent 3.5 weeks in Bath, England!! First of all, upon arrival to Bath Spa University, the first thing I got to see was my room. I am so obsessed with it. I was told I would have my own room and bathroom which I was initially a little nervous about, only because I didn't know if everyone else also had their own room, but little did I know that every single student at the university would have their own room and bathroom too! This is so uncommon in the US but apparently in the UK it would be weird to have a roommate. One thing I was truly not expecting was to have a full-size bed!!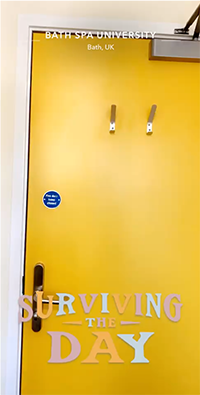 Secondly, after unpacking and getting all settled in, it was time for me to acclimate. My American friend, Sarah and I went into the City Centre the first night and met a bunch of the other international BSU students (all the UK students arrived about 3 days after us). Later, when the rest of the students arrived, we got to make some British friends! They taught us so much, for example, apparently there is a difference between being "English" and being "British." Everyone who is English is also British, but not everyone who is British is also English. Basically, if you are British, it means you are from anywhere in the UK, but if you are English, it means you are from England specifically.
Some helpful tips that I wish I had known:
➜ Take the bus!!
When we arrived, we were all given bus passes, but it took me a while to figure out the actual schedule. However, once I did, I ended up saving a ton of money because I didn't have to Uber.
Basically, this is key:
The U5 bus runs from Bath Spa University into the City Centre. They run about every 20 minutes until 3:00 am. Use Google Maps to check bus times. I cannot stress this enough; Google Maps is the plug. All you do is fill out where you want to go/where you're coming from (obviously) and make sure you select transit, then Google Maps does all the rest!
➜ Sainsbury's (UK) = Shoprite (USA)
Go here for groceries.
➜ Boots (UK) = CVS (USA)
Go here for the pharmacy. The pharmacists here can give you advice about something you're not sure if you need to see a doctor for and they can also prescribe medicine/treatments.
➜ Homebase (UK) = The Home Depot (USA)
Go here for any kind of Homegoods you might need for your room, etc.
One thing I am so glad I did was go out to the City Centre on the first night. From thereon out, I kept leaving campus every day to explore which really helped me to make a bunch of friends, deplete the effects of jetlag, and familiarize myself with the city.
I have been having so much fun, my friends and I already don't want to leave in December.
Until next time, cheers.
Emily
Emily Naylor
September 23, 2019 | Hey, I'm Emily. In roughly 96 hours I will be in Washington, DC for the pre-departure Cornerstone Abroad orientation at American University and I couldn't be more excited! Seriously, my summer has been 15 and a half weeks long thus far (I graduated from my high school on the 26th of May). Some might say I'm lucky to have such a long summer but the reality is that all of my friends from home are off at college and I have been completely and utterly bored.
I have met a few people who will be spending the semester with me in Bath, UK through social media so I am totally psyched to finally meet face-to-face really soon! My initial expectation for life in the UK is partially influenced by the Harry Potter movies and also by the one person I know who actually lives there, Tabby (she's from London), whom I met at summer camp in 2015. I think her accent is so cool, I'm hoping that by the end of the semester I'll be able to surprise my family with a new accent of my own.
It is interesting because in the UK an English accent is the norm. Tabby's parents once told me how they loved my American accent and it dawned on me that the envy and intrigue I get from hearing a unique and exotic accent is the same for people of another culture hearing mine. Anyways, Tabby once asked me for a "jumper." I replied "of course" and then realized I had no idea what that was until she explained that it is simply a sweater. I can't wait to hear more of the words that they use across the pond! On another note, I decided to bring my "mini-mergency kit" to Bath. It basically contains everything I might need while on route somewhere. I usually keep it in my car.
This is what I keep in it: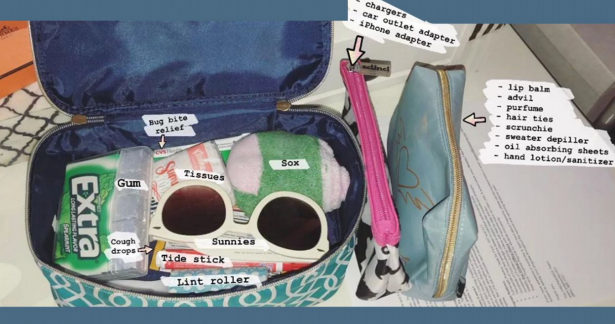 It is late now and I need to get my beauty rest, so until next time.
Signing off.
- Emily