Communications
Invisible Victims of Incarceration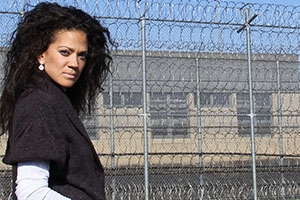 They feel ashamed. They feel stigmatized. They feel personally responsible, although they did absolutely nothing wrong.  

They're the children of incarcerated parents—collateral damage in an America with large numbers of fathers and mothers now behind bars.

Bethany Fraser wants these children—nearly three million of them, she says—to know they're not alone. And she wants other people to better understand their plight.

She comes by her concerns naturally, if regretfully: Two of those children are hers.

Fraser's new website, beyondthebarb.com ("barb" as in "barbed wire"), is just one product of her work at American University's School of Communication toward a graduate certificate in Digital Media. A Chicago native and 1998 graduate of the University of Alabama, she signed on to SOC in 2012 after a decade working as a loan officer for a Virginia-based mortgage company—and a year after her husband was sentenced to prison for vehicular manslaughter.

The Turning Point

She thought she was at SOC to brush up on her public-relations skills; it was time, she had decided, to stop putting things off. But three-quarters of the way through her studies, with the demands on her time seemingly unmeetable, she was on the verge of dropping out. Her faculty adviser, Brigid Maher, had other ideas—especially after Fraser revealed the tragic events that had left her essentially a single mother of two young boys.  

"Not only are you going to finish," Fraser, now 37, remembers her saying, "I think we need to take your personal story public. You have to use this as your story, if you're comfortable."

It was crucial advice, and a turning point. Fraser had already been thinking about the impact of incarceration on prisoners' families. She'd attended a screening of "The Middle of Nowhere"—about a wife's visits behind the fences and the razor wire—at the 2012 Sundance Film Festival. There'd been a chance to meet with, to talk to, the film's cast and crew.

"That was the moment!" she recalls. "That was 100 percent the determining factor: 'I'm absolutely going to American University. I'm absolutely going to do something with myself."

Until that conversation with Brigid Maher, though, "doing something" with herself hadn't involved taking on a campaign that hit so close to home. Hadn't involved "dealing with the shame and embarrassment that I know I was feeling, that I think my children were feeling."

Before long, she was part of a Google chat on Huffington Post Live. She was making videos of her children talking about their absent father. She was offering her public-relations skills to the distributors of "The Middle of Nowhere." Then, this summer, there was a phone call: The Federal Communications Commission was weighing a petition to lower the high phone rates prisoners are charged to make calls to their families. Would Fraser be willing to testify?

"Please, please be a face!" the advocacy group Center for Media Justice urged her. "We need a face, we need a voice!"

The more she thought about it, the clearer the decision became.

"I can't hide behind the video camera and say, 'Hey, everybody, let's empathize because these parents and these kids are too embarrassed to talk about it,' and then I can't get up because I'm embarrassed."

She testified in favor of the lower rates, and for the more frequent family contacts those rates would allow, and the FCC agreed. Fraser hopes it's merely the first of many successes. She wants her website to promote greater awareness among the general public. She particularly wants teachers and school guidance counselors more tuned in, so they know what they're dealing with when a "What does your daddy do?" writing assignment suddenly reduces a child to tears.

Looking Towards the Future

She has bigger dreams, too: a non-profit organization advocating for these kids and teaming up with other organizations with similar concerns; providing inspiring adult role models so they don't feel "abandoned, lost, shamed"; possibly even summer camps where they can take comfort from knowing that there are other kids wrestling with the same demons.

"They're not all inner-city kids," she points out. "Whether it's the federal penitentiary for white-collar crime, or [the parent] sold drugs—the kids have the same feeling of shame, no matter what the reason, or the race, or the social class."

And they all need someone in their corner. Someone who'll listen.

"Kids feel personal responsibility," she knows only too well. "And they feel it's taboo to talk about it."

None of this, Fraser makes clear, is to diminish in any way the pain felt by the families on the other side of the fence: the victims of the crimes that led to the jail terms and the prison terms.

"I'm not saying, 'Hey, we hurt more than you.' No: 'We hurt differently than you.' My prayer would be, that what I'm doing would be honest and helpful on this side, with absolutely zero disrespect for the other side."

She's grateful for the chance to be helpful in whatever way she can. Grateful for this latest turn in her life, and for those who encouraged her to grasp the opportunity.

"They mentored and believed in me, turned me that way, set me on a whole different course. SOC helped me see the need, and gave me the skills to meet the need."

For more information about the Invisible Victims of Incarceration project, or to contact Bethany Fraser please visit beyondthebarb.com.