American University Launches Career Directions Program for Online Graduate Students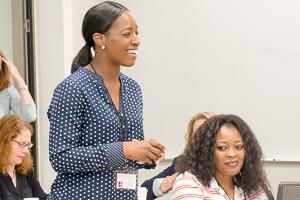 In the School of Professional & Extended Studies, we aim to provide students with both the knowledge and skills to excel in the workplace. To that end, students not only learn and collaborate in the classroom, they also explore new industries and create innovative capstone projects that show their knowledge and understanding of their industry. In addition, our graduate students have the opportunity to develop professional careers in lock-step with their academic curriculum through the Graduate Professional Studies Career Directions Program; available to all online students.
Through this program, students enhance their professional careers and develop new skills. Whether students have a clear career plan, or are in the beginning stages of exploration, this program allows students to explore the art of career decision-making, take a course to expand job search strategies, learn about personal characteristics through Myers Briggs, or create a personal brand. For more information, contact Jessica Bancroft at bancroft@american.edu.
Dr. Robert Stokes, Program Director of the Human Resource Analytics and Management program at American University has held a number of career counseling positions at both Indiana University and the University of Maine. He has also served as Director of the Career Development Center at Villanova University. As overseer of this inaugural program, he notes:
"People make four to seven career changes in their lifetime. Whether students are considering a career change or not, Career Directions is designed to help them consider their personal brand, possible career options, and a strategy to explore these options. The program will also help professionals at every stage of their career consider their goals and how to make effective career decisions. These workshops as well as the individual coaching is a great exploration program."