Alumnus/a of the Year Award
Since 1998, the SIS Alumni of the Year award has recognized an SIS alumnus/a (graduate or undergraduate) who exemplifies the ideals and values of the School - a change agent serving the community and helping to make the world a better place, whether working in the public, private, or nonprofit sector. SIS invites alumni, faculty, staff, and friends to nominate alumni who fit the criteria. The award is traditionally announced and conferred every April at an embassy dinner in Washington, D.C.
Current Alumnus/a of the Year Award Recipients
Dawn Miller, SIS/BA '93
President and CEO, AXA Insurance Company, US
Dawn Miller is President and Chief Executive Officer of AXA Insurance Company, AXA's US Commercial Insurance business, as well as the global lead for AXA's Women as Entrepreneurs initiative. Prior to joining AXA, Miller worked as the Head of Client Engagement for Europe, the Middle East, and Africa at American International Group. She was named a Young Leader of Tomorrow by the International Insurance Society in 2015 Miller was recently included in a list of six SIS women who paved the way for this generation, which highlighted her success as a woman in her field.
"My years at American University's School of International Studies served as a gateway to all the opportunities that Washington has to offer: internships, urban living, and the ability to interact with people from diverse backgrounds, cultures, and perspectives," says Miller. "These experiences gave me the foundation to explore and develop the skill set for a global career, including pushing forward AXA's main goals of building sustainable economies, resilient communities, and healthy populations."
Ettore Leale, SIS/BA '91
Managing Partner, Xplorer Capital
Ettore Leale is a business builder, investor, and advisor in the technology industry who has grown companies from inception to global scale. Focused on the internet since 1997, Leale's sector experience includes digital media, digital advertising, software, and online education. Earlier in his career, Leale served for the Red Cross where he structured and implemented mass feeding programs for the besieged and refugee populations of the former Yugoslavia and the Balkans. After graduating from SIS in 1991, Leale earned his MBA from Harvard Business School in 1997.
"SIS transformed my understanding of the world. I was lucky to participate in a study abroad program in Berlin in 1990 at the time of the German re-unification, and in Buenos Aires in 1989 at the time of 4,000% hyperinflation," says Leale. "SIS also led to my first job with the Red Cross and the wars in Yugoslavia. As I reflect on the 60th anniversary of the school, I cannot think of a more important time for educating thoughtful leaders who make a positive difference in the world. I am impressed by the growth and the impact of the school, and I am thrilled to reconnect with the SIS community."
2017: Kayla Williams, SIS/MA '08 & Davina Durgana, SIS/PhD '15
2015: Mehdi Heravi, SIS/PhD '67
2014: Chad Bissonnette, SIS/BA '05
2013: Lisa Martilotta, SIS/MA '03
2012: John Prendergast, SIS/MA 90
2011: Ambassador Clyde Taylor, SIS/MIS '61
2010: Fruzsina Harsanyi, SIS/BA '64, SIS/MA '67, SPA/PhD '72
2009: Esther Benjamin, SIS/MA '92
2008: Alan H. Fleischmann, SIS/BA/BS '87
2007: Sherry Mueller, SIS/BA '65
Established in 2009 by members of the SIS undergraduate class of 1967, the Class of 1967 Prize is awarded in memory of deceased classmates. The prize, awarded annually, honors an SIS international undergraduate student who exemplifies the ideals of the school.
To contribute to the fund, give online or make checks out to "American University" with "Class of 1967" in the memo section and mail in.
Current Class of 1967 Prize Recipient
Mykyta "Nick" Makarenko, SIS/BA '21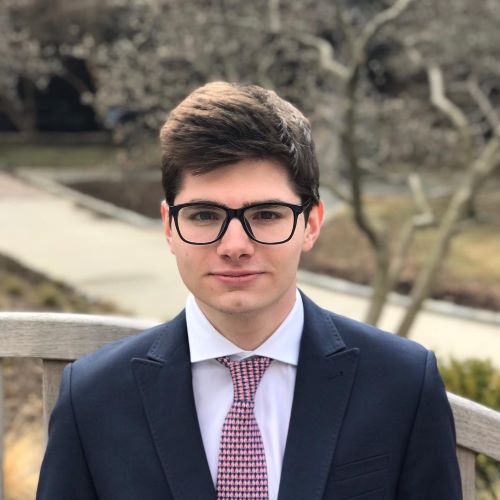 Nick is a junior international student from Ukraine studying international studies with a minor in international business. He hopes to one day pursue a diplomatic career, focusing on natural resources and energy. Nick speaks five languages and will spend next spring studying abroad at the Peking University, China Studies Institute in Beijing. Nick is passionate about accessible international education, and plans to use the SIS Class of 1967 Prize to purchase textbooks for the next academic year. He says, "I am hoping to enhance my knowledge of diplomacy, further develop diplomatic skills, and become a specialist in international economics."
Yangqiansu "Chelsey" Cao, SIS/BA '18
Anthony Than Htut Aung, SIS/BA '16
Roshni Rajan, SIS/BA '16
Iris Wu, SIS/BA '15
Fu Hamabe, SIS/BA '14
Olga Otrokhova, SIS/BA '13
Maria Beihof, SIS/BA '12
Livia Mueller, SIS/BA '11
Stephanie Ayeh, SIS/BA '10