External Events:
Tue, December 6, 2022 | 5:30 PM – 7:00 PM EST
SIS Book Launch: Joseph Torigian, "Prestige, Manipulation, and Coercion"
Abramson Family Founders Room, American University | Sponsored by SIS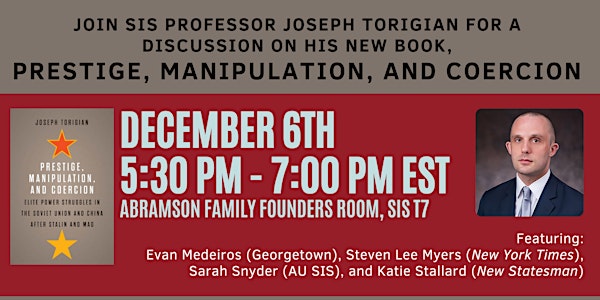 About the book:
How succession in authoritarian regimes was less a competition of visions for the future and more a settling of scores
"Joseph Torigian's stellar research and personal interviews have produced a brilliant, meticulous study. It fundamentally undermines what political scientists have presumed to be the way Chinese Communist and Soviet politics operate."—Dorothy J. Solinger, University of California, Irvine
The political successions in the Soviet Union and China after Stalin and Mao, respectively, are often explained as triumphs of inner‑party democracy, leading to a victory of "reformers" over "conservatives" or "radicals." In traditional thinking, Leninist institutions provide competitors a mechanism for debating policy and making promises, stipulate rules for leadership selection, and prevent the military and secret police from playing a coercive role. Here, Joseph Torigian argues that the post-cult of personality power struggles in history's two greatest Leninist regimes were instead shaped by the politics of personal prestige, historical antagonisms, backhanded political maneuvering, and violence. Mining newly discovered material from Russia and China, Torigian challenges the established historiography and suggests a new way of thinking about the nature of power in authoritarian regimes.
Prestige, Manipulation, and Coercion has been reviewed in the New York Review of Books and Engelsberg Ideas.
With:
Evan Medeiros, Professor and Penner family chair in Asia studies in the School of Foreign Service at Georgetown University
Steven Lee Myers, veteran national security and foreign correspondent for The New York Times
Sarah Snyder, Professor at AU SIS specializing in the history of the Cold War, human rights activism, and U.S. human rights policy
Katie Stallard, Senior editor for China and global affairs at the New Statesman
Books will be available for sale at the event.
Click HERE to register.
Join our mailing list to receive our event updates.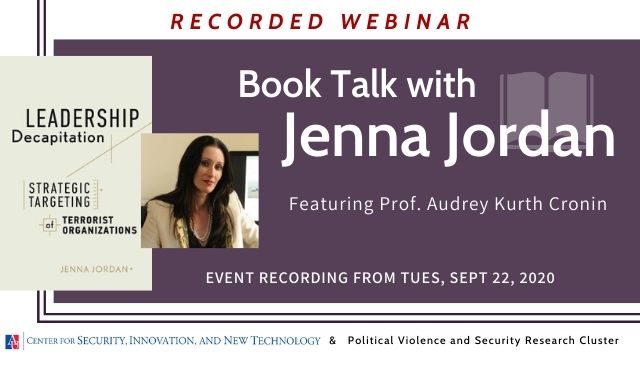 CSINT paired with the Political Violence and Security Research Cluster to welcome Jenna Jordan for a thought provoking discussion on her book Leadership Decapitation. Dr. Jenna Jordan is an associate professor in the Sam Nunn School of International Affairs at the Georgia Institute of Technology. Her discussion explored the effectiveness of leadership targeting as a counterterrorism strategy. Dr. Jordan was joined by AU's Prof. Audrey Kurth Cronin to expand on the conversation of terrorism, political violence, and international security. This event was held virtually on September 22, 2020. CLICK HERE for recorded webinar.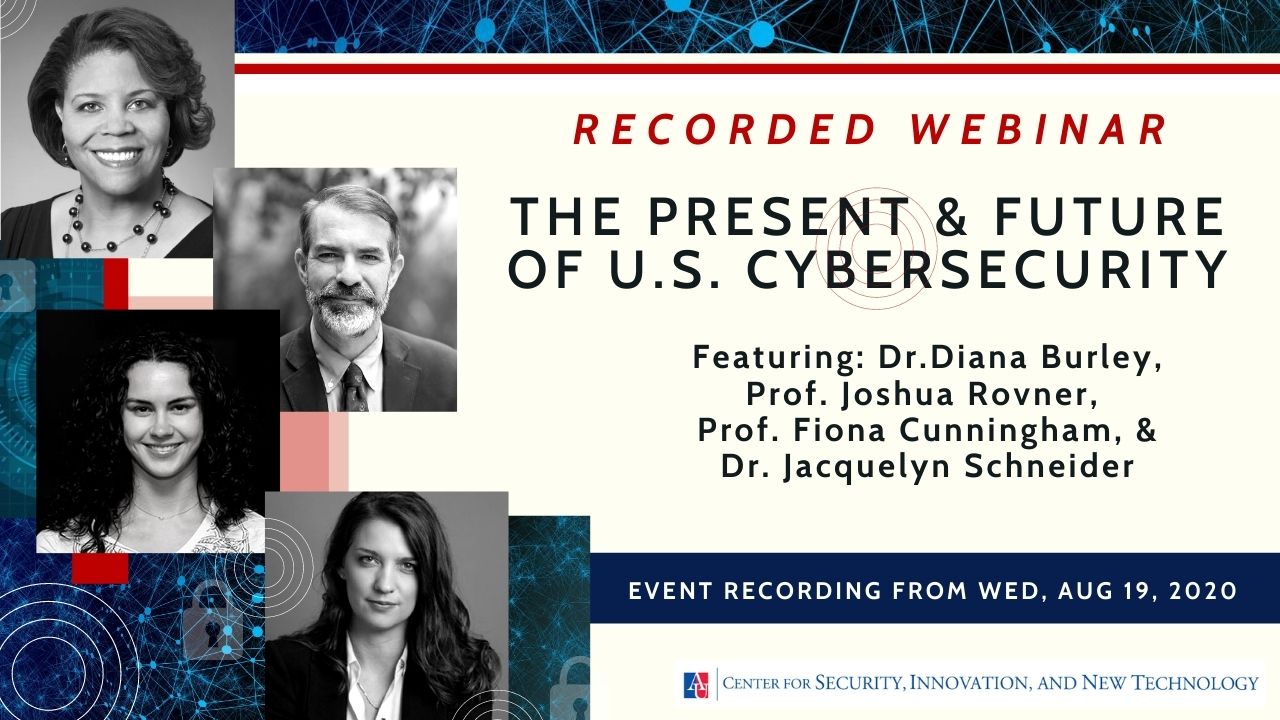 CSINT hosted a panel discussion entitled The Present and Future of U.S. Cybersecurity - a topic which plays a growing role in discussions of finances, elections, and national security. Our panel of experts engaged in a conversation about new cybersecurity threats that have emerged in recent years - both at the private and state levels, how the U.S. government can respond, and what the future holds for cybersecurity. This event was held virtually on August 19, 2020. CLICK HERE to watch recorded webinar.
Our Panelists:
Dr. Diana Burley
• Dr. Diana Burley is the Vice Provost of Research at American University and is a nationally recognized cybersecurity expert with experience in the private sector, academia, and government. Dr. Burley is a member of the U.S. National Academies Board on Human-Systems Integration and is also a researcher with the Cyber Operations Group at John Hopkins University Applied Physics Laboratory. Dr. Burley regularly conducts cybersecurity trainings for top executives around the world and has testified before Congress on cyber issues. Title: Vice Provost of Research at American University.
Prof. Josh Rovner
• Prof. Joshua Rovner is the Co-Director of the Center for Security, Innovation, and New Technology (CSINT) and an Associate Professor in the School of International Service at American University. He spent the last year as Scholar-in-Residence at the National Security Agency and U.S. Cyber Command. Dr. Rovner's research focuses on intelligence and strategy. He is the author of Fixing the Facts: National Security and the Politics of Intelligence (Cornell University Press, 2011); and the co-editor of Chaos in the Liberal Order: The Trump Presidency and International Politics in the 21st Century (Columbia University Press, 2018). His recent scholarship explores issues surrounding new technologies and international security, including offensive cyberspace operations in peace and war, deterrence and emerging nuclear powers, and how the information revolution affects intelligence.
Dr. Jacquelyn Schneider
• Dr. Jacquelyn Schneider is a Hoover Fellow at the Hoover Institution at Stanford University. Her research focuses on the intersection of technology, national security, and political psychology with a special interest in cybersecurity, unmanned technologies, and Northeast Asia. In addition to her position at Stanford, she is also a non-resident fellow at the Naval War College's Cyber and Innovation Policy Institute and a senior policy advisor to the Cyberspace Solarium Commission. She has a BA from Columbia University, MA from Arizona State University, and PhD from George Washington University.
Dr. Fiona Cunningham
• Dr. Fiona Cunningham is Assistant Professor of Political Science and International Affairs at the George Washington University and a Stanton Nuclear Security Fellow at the Carnegie Endowment for International Peace in 2020-21. Her research interests lie at the intersection of technology and conflict, with an empirical focus on China. Fiona has held fellowships at the Center for International Security and Cooperation at Stanford University, the Cyber Security Project at Harvard's Belfer Center for Science and International Affairs, and at the Renmin University of China in Beijing in 2015-2016, where she conducted extensive fieldwork on Chinese foreign policy. Fiona received her Ph.D. in 2018 from the Department of Political Science at the Massachusetts Institute of Technology, where she was a member of the Security Studies Program.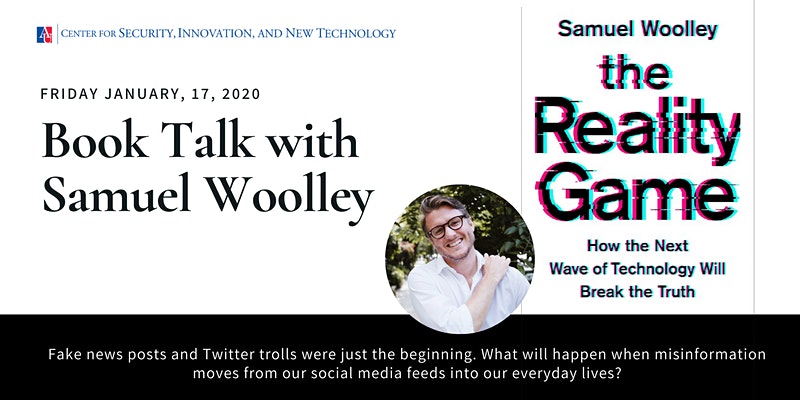 CSINT hosted researcher and writer, Samuel Woolley, for an engaging discussion on book The Reality Game: How the Next Wave of Technology Will Break the Truth (2020). Dr. Woolley is an assistant professor in the School of Journalism at the Moody College of Communication at the University of Texas-Austin, as well as the Program Director of disinformation research at the Center for Media Engagement at UT. He discussed the technology risks involved with new innovation such as automated voice systems, machine learning, "deepfake" videos and images, and how as a society we need transparency and accountability within the culture of invention. The event was held at American University on January 17, 2020.
Learn more about Reality Game: How the Next Wave of Technology will Break the Truth.