Security, Technology, Innovation
Exploring the New Literature, Culture, and Technology Program at American University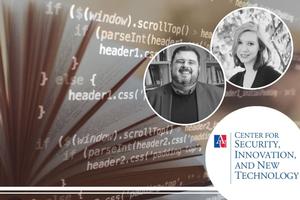 When folks at the Center for Security, Innovation and New Technology (CSINT) learned that the AU Literature Department had just announced a new Master's program focused on combining technology with literature and culture, we wanted to learn more. So, I connected with co-directors Arielle Bernstein and Dustin Friedman over Zoom to get the inside scoop.
According to Bernstein, the new program brings a "humanities mindset and a humanities set of skills to the world of business and technology." The original idea came from Department Chair David Pike and Professor Deborah Payne, and professors Bernstein (professorial lecturer in the writing studies program) and Friedman (assistant professor specializing in Victorian literature and culture) are implementing it. In addition to covering core humanities skills such as cultural theory and criticism, Bernstein and Friedman will teach students to navigate business and technology settings, where the humanities are vital to "thinking about how we're using and creating...new technology in the future."
American University's new program is the only one of its kind, Prof. Friedman observed. Rather than focus exclusively on what the humanities can bring to technology, as most digital humanities programs do, it focuses also on what technology can bring to the humanities. In other words, it enables graduates to translate back-and-forth between STEM disciplines and other fields—communicating the goals of new technological innovations to a broader audience. He also observed that students in the program will bring a "critical edge to the tech world," exploring the ethical questions at stake. With a large smile on his face, Prof. Friedman noted that "if there is one thing that humanities graduates know, it's how to communicate effectively."
Humanities students will not just learn about technology in the abstract but will also take a required introductory course in coding designed for arts and humanities students. This will give them a foundation for additional courses to expand their technological background. The program partners with AU's state-of-the-art game lab, for example, offering students an array of new resources and learning opportunities. 
Asked for examples of specific technological dilemmas, Prof. Bernstein suggested current dating apps, which have changed the way we see human relationships. Technology has altered not only how we date, but how we think about dating; yet archaic biases and threats, including security risks, sexism, and even racism, may be inadvertently written into the algorithms that drive results. Bernstein asserted that it is vital to provide students the tools to think critically about how various types of platforms are built - what goes into their design, how they can be improved, and how to design tools that yield more just, fair results. Just because something is technologically advanced does not mean that human foibles are left behind. Sometimes they are amplified. 
For the past year Bernstein has taught a course called "Empathy in the Digital Age" that critically analyzes this cultural moment and makes "connections between different films, tv shows, like 'Black Mirror,' articles in journals such as The Atlantic and The New York Times, and other media to help students draw connections between current events, technology, and cultural trends. Questions addressed include: What are the effects of using new technologies and tools? How do our attitudes shape the way we consider our relationships with others? and What are the intersections of technology and culture within these contexts? The new Master's program will expand on this type of thinking and critical analysis. 
As we discussed the program over Zoom, the impact of the COVID-19 on the adoption of new technologies was tangible. Bernstein commented that "I think 80% of my life right now is on Zoom." Friedman agreed, adding that remote platforms may become a "permanent part of the educational landscape, both at the post-secondary level and the K through 12 level." a prospect that has serious implications for what it means to educate human beings in an "online, technologically mediated environment."
To seek creative solutions to these and other technological questions, the MA in Literature, Culture, and Technology degree fills a gap between the humanities and computer science, and we are excited that American University has introduced it.
---
About the Author: 
Jess Regan is the program specialist at CSINT. She supports the Center through various channels including design work, content development, event planning, and program management. 
---
*THE VIEWS EXPRESSED HERE ARE STRICTLY THOSE OF THE AUTHOR AND DO NOT NECESSARILY REPRESENT THOSE OF THE CENTER OR ANY OTHER PERSON OR ENTITY AT AMERICAN UNIVERSITY.