Government & Politics
U.S. Practices for Technology-Sharing and Security Assistance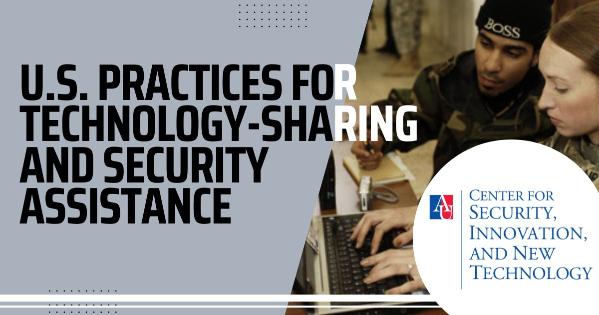 Ukraine has received more security aid in a single year than any other U.S. partner in history. From a foreign policy standpoint, the gift and sale of weapons, including high-tech military hardware, gives the U.S. a way to support Ukrainian forces without becoming a combatant. But because much of this support has come through executive orders, it also means that billions of taxpayer dollars are being funneled into an opaque system. This is just the latest example in the centuries-long debate between executive action and legislative oversight. The normal processes of aiding partners through security assistance and foreign military sales involves the legislature and executive agencies to ensure that technology transfers do not compromise U.S. national security or empower bad actors. But these processes often take years to be achieved. Unilateral presidential authority invoked through executive action skirts these time-consuming requirements. This allows for decisive action on time-sensitive foreign policy priorities but leave security assistance susceptible to political pressures. A deeper understanding of how and why the U.S. is sending military support to Ukraine can help illuminate these trade-offs.
There are two major processes through which the U.S. sends military hardware and software to foreign countries. The first is through foreign military sales (FMS). A country's government submits an official letter of request for U.S.-made systems. The Department of Defense (DoD) reviews the request for any risks of disclosing sensitive technology, and the Department of State (DoS) assesses the potential client's human rights record. If both departments certify the sale, the Defense Security Cooperation Agency discloses the deal for a 30-day Congressional review period, an offer letter is sent to the purchaser, and a contract is negotiated. U.S.-based arms manufacturers cannot begin production until a final contract has been signed.
The second process is direct security assistance, which may be given as a grant or loan. While less prescribed than the FMS pipeline, security assistance proposals must still be reviewed by multiple agencies. The State Department considers on a case-by-case basis which partner countries should receive assistance, weighing the following objectives: assisting allies and friendly nations; promoting interoperability with U.S. forces; and promoting stability in regions critical to U.S. interests, among others. The Pentagon is then responsible for executing the program. They must notify Congress of an intent to disperse security assistance, but lawmakers do not have veto power as with FMS.  
In addition to these two traditional processes, the president can also issue assistance through the Presidential Drawdown Authority (PDA), in which he unilaterally authorizes the transfer of supplies from Defense Department stockpiles. Statutory provisions in the Foreign Assistance Act of 1961 authorize the president to draw any articles or services from U.S. military stockpiles, so long as the total value of drawdowns does not exceed $100 million per fiscal year. Congress raised that cap to $11 billion for Fiscal Year 2022, giving President Biden greater latitude in issuing military aid to Ukraine. $8 billion of the $9.9 billion in security assistance the U.S. has provided to Ukraine since Russia's invasion was granted through PDA. This included the transfer of weapons systems, secure communications systems, protective gear, field equipment, and commercial satellite imagery services. Much of the remaining aid was dispersed through normal security assistance or FMS procedures, or via the Ukraine Security Assistance Initiative through which the U.S. government procures equipment from industry contractors.
President Joe Biden's use of executive power to provide security assistance to Ukraine is unprecedented. He invoked PDA 23 times between August 2021 and October 2022. By contrast, PDA was invoked just 11 times from 2011-2015, the last time period for which such data is available. Administration officials have justified the extensive use of this executive tool as a means of getting aid to Ukraine quickly and to deliver the capabilities most helpful to the present phase of conflict. For example, the U.S. provided heavier artillery, air defense systems, and advanced radar systems as the war evolved from urban fighting in Kyiv to a territorial assault on Russia's positions in Donetsk and Luhansk. PDA and other executive-directed forms of security assistance allow for this flexibility and reactiveness. But a quick response comes at the expense of legislative oversight. In March 2022, Biden invoked emergency authority to bypass Congressional notification and review of arms sales to Ukraine.
Biden's ability to rapidly deploy security aid to Ukraine has earned him praise from Ukrainian President Volodymyr Zelensky, who highlighted delivery of essential systems as key to Ukraine's counter-offensive in Russian-occupied areas. However, Ukraine is an easy case for now: checking Russian expansion is clearly in the U.S. national interest, and aid to Ukraine has broad support from the U.S. public and from legislators of both parties. If the conflict extends through the winter and raises energy costs for U.S. and European consumers, Biden could face pressure to pursue a negotiated settlement over continued aid. We would likewise expect a much harder path to the extensive use of PDA for more contentious foreign policy issues, including Congressional resistance to shift normal monetary caps. Consider, for example, the numerous claims of executive overreach leveled at presidents of both parties who continued to use the 2001 Authorization of the Use of Military Force as a basis for the unpopular wars in Iraq and Afghanistan.
How might policymakers balance between the sluggish process of Congressional oversight and ensuring that executive action is taken based on strategic, rather than political, rationale? Think tank reports on security assistance published prior to Russia's invasion of Ukraine have come down firmly on the side of legislative oversight. New America has argued for public Congressional hearings to gauge the costs and effectiveness of security assistance programs, while CSIS advocated additional layers of DoD and DoS vetting of potential recipients. We have not yet seen comprehensive reviews of security assistance to Ukraine, likely due to the popularity of the issue and to the developing nature of the issue. However, there have been increased calls for greater disclosure of security assistance processes. After Biden's September announcement of a new $13.7 billion assistance package to Ukraine, lawmakers requested a written report and briefing of the Congressional Armed Services Committee to gauge what precisely would be allocated in that funding. A recent report from the DoD Inspector General likewise calls for greater "transparency and traceability" of executive transfers to Ukraine.
These types of after-the-fact disclosures of security assistance begin to reconcile the debate between Congressional oversight and executive action. Although public reports on weapons provided for an ongoing conflict may compromise security objectives, even classified briefings to Congress would help maintain balance of power and create a paper trail for future scrutiny. However, current proposals do not include provisions for preemptively checking presidential authorizations. As Richard Grimmett noted in his 1982 treatise on U.S. arms exchange, "The President's ability to use the powers and prestige of his office to define or redefine the terms or emphasis of the public debate…makes it difficult for Congress to overrule his decision." The White House will continue to enjoy considerable latitude in directing foreign military aid.
---
About the Author: 
Kathryn Urban is a current graduate student in the School of International Service's Global Governance, Politics, and Security program. Her research interests include Arctic securitization and the strategic logic of drone warfare.
---
*THE VIEWS EXPRESSED HERE ARE STRICTLY THOSE OF THE AUTHOR AND DO NOT NECESSARILY REPRESENT THOSE OF THE CENTER OR ANY OTHER PERSON OR ENTITY AT AMERICAN UNIVERSITY.