International
Fundraiser To Be Held In Honor of Beloved Fallen Alumnus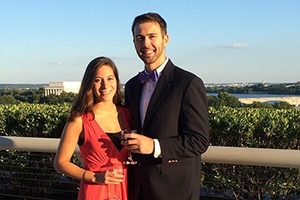 This summer and fall, we have been reminded again at the School of International Service of the tremendous impact that students have on their classmates, faculty and staff at American University (AU) even after they graduate. To honor one special alumnus, in fall 2015, American University School of International Service (SIS) Dean James Goldgeier established the School of International Service Matthew C. Shlonsky Memorial Fund for the District of Columbia in memory of Matthew Shlonsky, SIS/BA '14, a beloved alumnus who died tragically in August 2015 in Washington, DC at the age of 23.
The Shlonsky Fund, created with the blessing of Shlonsky's family and in collaboration with close friends, many of whom are alumni of AU, will support SIS faculty and students who wish to draw upon their international affairs research to address critical challenges facing the District of Columbia.
In support of the fund, Shlonsky's friends and AU alumni Benjamin Matek, CAS/BS '12, Matthew Rosenberg, SOC/BA '15, and Brendan Walsh, SIS/BA '14, are hosting a fundraiser on Wednesday, October 21, at Right Proper Brewing Company in Washington, DC.
"When we were approached by Dean Goldgeier about the concept for the fund, we knew it would be a great way to pass down Matt's legacy," said Walsh. "Matt was passionate about SIS, research, his time studying abroad, and Washington, DC. This scholarship will allow students who share his passion of international studies to challenge themselves and apply their interests and skills to address numerous issues facing Matt's adoptive city."
All proceeds from the fundraiser will be donated to the fund. In addition, Right Proper has agreed to donate $1 for every house or draft beer purchased at the event. The ticket price of $30 will cover hors d'oeuvres and one drink.
"Our goal is to raise awareness and approximately $5,000 from the fundraiser. In addition, we hope the awareness will allow us to raise an additional $5,000 from young alumni and other folks in the community for a total of $10,000 to be contributed to the fund," said Matek.
Matek noted that silent auction donations for the fund are also in progress. The largest item received to date is a collection of autographed pieces from the Washington Capitals hockey team.
Shlonsky is remembered by all who knew him at SIS as a smart, enthusiastic, motivated, conscientious, easy going, and a willing volunteer in helping fellow classmates and faculty. Shlonsky earned a bachelor of arts degree in international studies with a concentration in international business relations and a regional concentration on Latin America. A dedicated student, Shlonsky served in the Pi Kappa Phi fraternity, Men's Club Ice Hockey, and the Kennedy Political Union while at AU. After graduation, he joined Deloitte Consulting as a business analyst. Matek, Rosenberg, and Walsh hope that the fundraiser will allow them to honor the legacy of Shlonsky's life.
"From the moment I met Matt in freshman year I knew he was a special person and that I would never have a friend like him again," said Walsh. "Matt was the most genuine and friendly person I ever met. Growing up as an only child, I always wondered what it would be like to have a sibling. With Matt I came to learn exactly what it was like. He was the closest I will ever come to having a brother. He looked out for me. He provided support in times of difficulty. He provided guidance. Although we would sometimes disagree, we both understood that it was nothing personal and loved each other just the same. For five years he was not only my best friend, but he treated me like family."
"He was an endlessly caring person who was there for every good and bad moment I had at school," agreed Rosenberg, who also met Shlonsky during his freshman year. "Matt had an insane ability to juggle his packed schedule and commitments while still carving out time for his friends — especially when they needed it most. He was always the first person I would call to share good news. We celebrated internship offers, the end of each school year and happy moments together."
Shlonsky exemplified his school's commitment to service and waging peace. In addition to contributing to SIS and the university, Shlonsky gave back to Washington, DC, by serving as a Hebrew tutor and homework aide at Washington Hebrew Congregation alongside other organizations. Walsh remembers Shlonsky as an active and engaged volunteer in his community.
"When speaking to someone who knew Matt, whether it was for 23 years, five years, or even one month, that person will tell you that Matt was an amazing man," said Walsh. "He was unique not only because of his personality, but because of his values and his actions. Matt didn't just preach compassion and community service. He lived it. He was a man who would take the shirt off of his back to warm a complete stranger and volunteered countless hours for charities and by teaching at his local synagogue. He was a mentor and a friend to many."
With so much lost, the SIS community hopes the School of International Service Matthew C. Shlonsky Memorial Fund for the District of Columbia will inspire others to address the challenges facing our nation's capital in Shlonsky's memory.
"The reason we are leading the effort to raise funds is that it is important to fill the void that Matt left," said Rosenberg. "Although the three of us are the ones speaking, there are a lot of people who could speak with authority about the great person Matt was. It was clear from his short time as a professional, and his years as a student, that Matt would have gone on to make the world a better place. We hope this fund will help to fill the void he left behind."
To learn more, visit the fundraiser page.
Please join us to celebrate the life of Matthew Shlonsky at a memorial service on Sunday, October 25 at American University's Kay Spiritual Life Center. The service will begin at 4:00 PM.
Read the dean's announcement of the memorial fund here.
To learn more about Matt Shlonsky, visit the SIS News page.
Contribute to the School of International Service Matthew C. Shlonsky Memorial Fund for the District of Columbia.