Alumni
ISIS Destroyed His Community—Now He Advocates for Survivors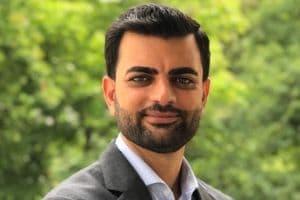 Life in Sinjar, Iraq, wasn't always easy for Abid Shamdeen (SIS/MIS '19). He grew up in a community of Yazidis, a marginalized religious group that has been discriminated against throughout history.
He spent many of his days trekking miles of unpaved roads between home and school, and the area experienced economic difficulties after the international community placed sanctions on Iraq in 1990. But, even so, Shamdeen still looks back on his formative years with a fondness: "That was our life. It was a peaceful life. We had a sense of community, and it was our community."
That sense of peace, however, was shattered in 2014. Shamdeen was thousands of miles away, studying at the University of Nebraska, when he heard the news: ISIS had attacked his home.
Speaking Up for the Yazidis
"My family was there, friends, everyone," says Shamdeen. "People fled to the northern part of Iraq. For those who weren't able to flee—many were captured and killed."
Though Shamdeen was far from his loved ones at the time, he and other Yazidis in Nebraska took swift action. They gathered together to rally outside of the governor's office in Lincoln and later joined Yazidis from across the US in protesting outside of the White House on behalf of their community.
Shamdeen was able to get in touch with the State Department and described the situation in Sinjar.
"We were in constant contact with people who were stranded on Mount Sinjar and surrounded by ISIS," Shamdeen explains. "The ultimate goal for us, at the time, was to try and rescue those from the mountain to safety. The unity of the Yazidi diaspora in the West made it possible to save many Yazidis from Mount Sinjar."
He connected with NGOs in New York and met with several UN agencies to rally more support for those in danger, and, soon after, Shamdeen and a small group of other Yazidis founded Yazda, an NGO that advocates for Yazidis. Once he finished his undergraduate degree, Shamdeen took on development projects in Sinjar to help rebuild the area: "The purpose of Yazda was that we wanted to have an official entity to speak with people on behalf of the [Yazidi] community. The main goal was to advocate, but we ended up expanding and doing operations on the ground."
A Partnership of Service
Shamdeen currently serves as the executive director of Nadia's Initiative, an NGO that focuses on advocacy for the Yazidi community, rehabilitation of Sinjar, and, on a global level, advocacy for gender equality and survivors of sexual violence. He smiles widely when he speaks about the organization's founder and president, Nobel Peace Prize laureate Nadia Murad, who is also his wife.
Shamdeen met Murad in New York in 2016. At the time, she was following up on a speech she had given at the UN about the need to combat ISIS. Murad is a Yazidi who experienced the atrocities of ISIS first-hand, having been one of the many people captured and forced into sexual slavery by the terrorist militant group. She was able to escape her captors and now advocates on behalf of survivors of violence around the world.
"She is the best," says Shamdeen. "We're doing work that's helping our community and other communities that are affected by this kind of violence. It's meaningful work."
Murad is currently working with her lawyer, Amal Clooney, to bring ISIS to court.
Honing Skills for Advocacy
Though Shamdeen had spent years working in human rights advocacy and, from 2005 to 2010, as a translator and cultural advisor for the US military in Iraq, he wanted to further develop his skills and chose to pursue the Executive Master of International Service degree in 2018.  
Through his courses, Shamdeen has learned about the various components that make up successful leadership, including effective team building and intercultural communication: "I gained a lot of insight from all of my professors. For example, I very much enjoyed my Executive Leadership course with Professor Nancy Sachs. Learning about how to consider the culture of who I'm communicating with is helpful, in many ways, for the work I'm currently doing. Another example is my Human Rights course with Professor Jeff Bachman. It helped with my work in analyzing the lasting effects of genocide on the Yazidi community."
Shamdeen aims to continue speaking up for the Yazidis and hopes that more people will act on behalf of their fellow global citizens: "Advocacy can be a powerful tool to raising awareness of an issue, but I only got involved because my family and friends were affected. There are similar cases that happen in other parts of the world that we don't pay enough attention to. Everyone can contribute in some way to combatting these injustices."