International
MIS Program Helps Professionals Pair Their Experience with Credentials for Career Advancement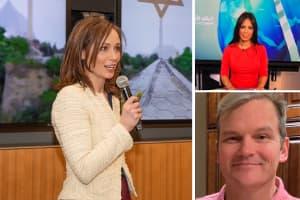 The Master of International Service (MIS) program at SIS offers professionals with at least seven years of experience the opportunity to earn a tailored master's degree from a top-10 school of international affairs.
Wondering if the MIS program is the right fit for you? We spoke with MIS program director and SIS professor Claudia Hofmann, two alumni, and a current student to learn more about their experiences with the program and how an MIS degree helps students combine their professional and academic knowledge to better serve the global community.
Building Theoretical Knowledge
Since the MIS program is designed for students with lots of professional experience, one might wonder what benefit the degree holds for them. Why would a professional with seven years' experience under their belt want to return to school? Professor Hofmann explained that students often seek out an MIS degree at SIS to gain an academic foundation and a better theoretical understanding of their current professions—to either support their practical experience with theoretical knowledge or build upon the existing knowledge they've gained through their professional experience.
Marwa Elsayed (SIS/MIS '15) has been a political news anchor for more than 20 years, most recently at the Middle East Broadcasting Networks, an international media outlet founded and funded by the US Department of State. As a news anchor and counterterrorism analyst, Elsayed decided to pursue an MIS degree at SIS to better understand and report on global terrorism.
"I'm in the field—I work with people from the State Department, Department of Defense—but still, I needed the academic side," explains Elsayed. "This academic side complemented my professional knowledge beyond what you would read from news agencies. It gave me an academic way of thinking, of analyzing problems, and of coming up with policy recommendations on how to fight terrorism."
Since completing the program, Elsayed has relied on her knowledge on counterterrorism to ask effective questions in interviews with representatives from the Department of Defense and other government agencies.
A Flexible Approach
Angela Tierney, a current student in the MIS program, currently serves as the business development director at WCC International, an organization that helps businesses conduct cross-border trade. Squeezing in her interview for this story at 10 p.m., after a full workday, she explained that the flexibility and customizability of the MIS program were two of the reasons why she pursued the degree.
"One of the reasons I only considered American University is the flexibility and individuality given to each student. We can curate our curriculum and work with our advisors to do what's best for us," says Tierney. "They really want the best for their students, not only in our academics but also in our career trajectories."
The MIS program requires only 30 credit hours of graduate coursework because the students already are practitioners and professionals in international affairs. If students have additional professional experience gained abroad, they may be able to further reduce their degree requirements to 24 credits. Because MIS students already have a professional background in international affairs, Hofmann says that the MIS curriculum is geared toward more advanced and applied courses.
"We provide a lot of flexibility to our students because we know they have experience," says Hofmann. "We try to allow them to tailor the program to what they need in their profession and where they want to go in their career."
Tierney wants to continue working in diplomacy and international development but with increased capacity and leadership skills. She is excited to learn more about her current field through her coursework: "I'm grateful to have the opportunity to be working and studying in the same field because it offers myself a different perspective. I can put on the academic hat, the practical hat, and I can see how they align."
Applying Knowledge Outside of the Classroom
Chief Warrant Officer 3 Timothy Frantzen (SIS/MIS '20) is a Special Forces soldier assigned to United States Army Special Operations Command (USASOC). He decided to pursue an advanced degree to gain a broader, analytical perspective on his experiences serving the US government and supporting US foreign policy during his almost 20-year military career.
Because MIS students are already practitioners, Hofmann explains that MIS courses are designed to make academic components as applicable to their profession as possible: "We always want students to bring their profession into their coursework, but we try to teach them the academic components in a way that they can utilize outside of the classroom immediately."
Frantzen says that his greater understanding of quantitative and qualitative analysis has helped him considerably in his current role: "Applying these skills helps me to better analyze current and emerging problem sets while also offering cogent and informed guidance to my peers and superiors."
He adds that the MIS program also has provided him with skills he has integrated into his work in the field, including international negotiation, conflict resolution, and executive leadership: "These skills are widely valued in my organization's ability to execute national objectives supporting security and foreign policy and also working with and within various countries around the world."
A Greater Capacity for Service
At SIS, we believe the world needs leaders who are ready to serve. MIS students and alumni combine their professional and academic knowledge to serve the global community, wage peace, and advance their careers and leadership capacity in international affairs.
"We have students who are very service-oriented—who want to change their career to include more service," says Hofmann. "What we teach tries to convey the message of service in international affairs and how each individual can contribute to the practice of international affairs in a positive and constructive way."
Elsayed, Frantzen, and Tierney all hope to continue making a positive difference in the world through their current and future professional roles. Looking forward, Frantzen says he would like to serve in other parts of the US government after transitioning out of his current role.
"Earning this degree has given me the knowledge, skills, and confidence to pursue these future career opportunities," says Frantzen. "It has also given me the means to effectively apply what I have learned from the past toward being a contributor to creating a better global community in the future."