Achievements
Professor Nanette Levinson: Driving Positive Change Since 1979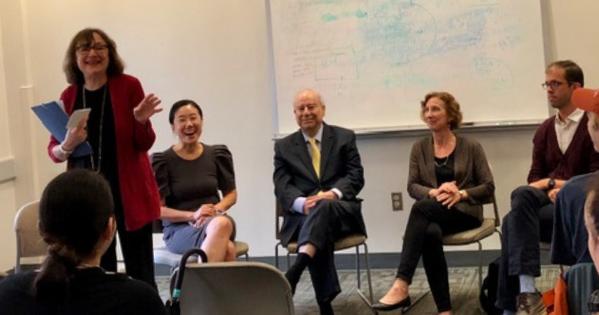 SIS professor Nanette Levinson began work at American University on June 1, 1979. Forty-one years later, she is now the longest-serving faculty member at SIS, including 20 years served as an associate dean. Levinson also serves as co-director of AU's Internet Governance Lab, which conducts evidence-based research, engages in policy formulation, and offers world-class teaching in internet architecture and governance.
Throughout her years at AU, Levinson's research has focused on technology, innovation, and change. We caught up with her to learn more about how internet governance has evolved since she began in the field and what she's learned during her time at AU and SIS.
The Importance—and Evolution—of Internet Governance
Levinson received her bachelors, masters, and doctoral degrees from Harvard University. She's always been passionate about technology and innovation, especially when it crosses organizational and national boundaries: "I've always been very interested in the policy spaces—where decisions are made about these new technologies—and the interaction between technologies and governments and civil society and industry and technical experts."
More recently, she has focused her research on internet governance, leading the Internet Governance Lab alongside her colleagues, SIS professor Derrick Cogburn and SOC professor and interim dean Laura DeNardis. Levinson explains that internet governance, broadly defined, "looks at the internet itself and the implications for policymaking, for practice, and for governance—for anything that relates to how we use the internet." While Levinson's research was once, as she describes it, "on the periphery in the field of international relations," internet governance has become widely understood as central to domestic and international policy.
"The internet is all-pervasive, and it has all-pervasive policy and governing questions for us. There are policy issues dealing with privacy, human rights, and cybersecurity. There are threats today—we see very vividly—to infrastructures, for example, the energy or health infrastructures," Levinson explains.
Levinson says that she loves the Internet Governance Lab, because, like SIS, it represents a number of different disciplines, including law, economics, anthropology, geography, sociology, communication, foreign policy, security, human security, and cross-cultural communication: "All of these disciplines and fields interact, and we need to look to all of them as we grapple with these complex policy questions."
The Future of Internet Governance
Levinson explains that internet governance is now more important than ever. Since we no longer can deal with internet governance only on a nation-by-nation basis, it is something we have to consider both nationally and globally.
"Today's challenging pandemic, with its related inequalities, raises so many compelling questions [related to the internet] that we have studied all along but now are so much more important," says Levinson. "These include questions of digital divides; security issues—cybersecurity is indeed part of internet governance studies; regulation—what do we do about platforms such as Google and Facebook? Our Congress and many other governments around the world, civil society, and the private sector are all grappling with these issue areas right now."
Levinson, Cogburn, DeNardis, and Francesca Musiani, a fellow at the Internet Governance Lab, recently edited an MIT Press book titled Researching Internet Governance: Methods, Frameworks, Futures, which discusses methods and conceptual approaches in internet governance research. The last chapter of the book, which Levinson authored, highlights gaps in the methods used to research internet governance. In it, she explains that it is vital to address these gaps because of the current and future challenges presented by evolving internet technologies.
Levinson predicts that the networked risks related to the coronavirus pandemic may be a transformational point in the study of internet governance. On the positive side, it may open up "vital and vibrant opportunities" for scholar-teachers to embrace changes wrought by evolving technologies, study them, collaborate cross-nationally, and make sure students and alumni are equipped to grapple effectively with the resulting issues.
"Being involved in the growth of the field of internet governance research has been absolutely incredible," says Levinson. "We do still have tremendous challenges with digital divides, with cyber security, and with related cross-national and cross-sectoral policy learning. But it is very fulfilling to see the way scholarship and curriculum development have grown and continue to grow in the field."
Lessons Learned from AU and SIS
Levinson's tenure at AU and SIS has also come with many firsts. She created the first freshman international experience at American University through SIS and the first undergraduate research symposium. She was elected the first woman chair of the National Conference on the Advancement of Research and the first elected chair of the Global Internet Governance Academic Network (GigaNet). She created the first course at American University in social entrepreneurship and helped develop SIS's PhD concentration in security, technology, and social change. Most recently, she helped found AU's Internet Governance Lab.
Levinson explains that while AU has changed over the years, one important attribute of the university has stayed the same: "American University itself has grown dramatically, and the landscape, our campus, is absolutely glorious. And in that respect, there are wonderful, wonderful changes. But what hasn't changed is the character of our faculty and students."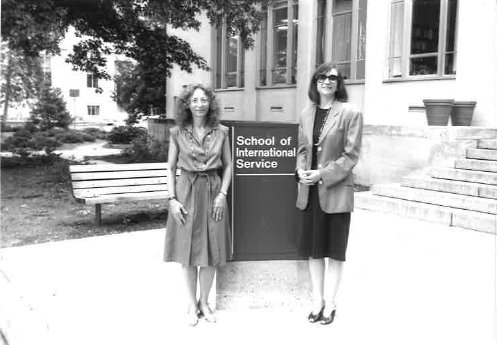 Levinson believes that, after 41 years at AU, her students are "as incredibly talented, motivated, and vibrant as they ever were." She explains that her students in 1980 were just as committed to making a difference in the world as our students today. She is also grateful for the school's faculty, who she says have made extraordinary contributions to her field across all disciplines.
"For me, working in a community such as SIS—with its values, with its alums, with its faculty, with its staff—has made a major difference for me," Levinson says. "I feel that it is just a privilege to have done this and to continue to do this."