Alumni
SIS Alumnus Advocates Disability Rights as Advisor to President of Gabon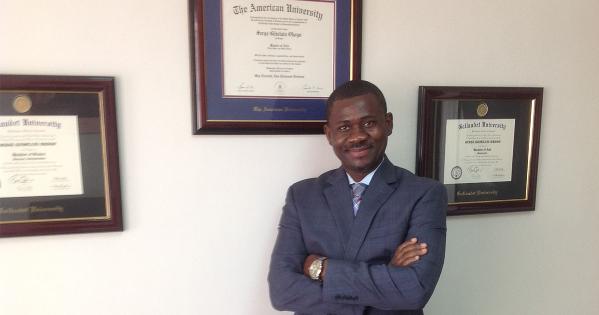 As an advisor to Gabonese President Ali Bongo Ondimba, Serge Okogo, SIS/MA '14, is dedicating his career to improving and addressing social issues in Gabon, primarily disability rights. Okogo is part of Gabon's deaf community, and he is the first deaf Gabonese citizen to earn a master's degree and work in the country's Office of the President.
In his role, Okogo also travels abroad to coordinate educational partnerships that can benefit people with disabilities. He has become a role model for the deaf community in Gabon as well as an advocate for the most vulnerable people in his country. We spoke with Okogo to learn more about his time at SIS and his burgeoning career of advocacy and service.
A Graduate Education that Opened Doors
After graduating from Gallaudet University in 2012 with a BA in government and business administration, Okogo was adamant about attending SIS to earn a MA in Ethics, Peace, and Global Affairs (now known as Ethics, Peace, and Human Rights). He wanted to prepare for a career in which he could promote lasting social change in Gabon and, more broadly, across Africa.
"I had wanted to go to American University since my sophomore year at Gallaudet University because of its reputation as a leader in global education and its commitment to global social justice. I share those values," says Okogo.
While at SIS, Okogo worked as a research associate at AU's Institute on Disability and Public Policy (IDPP). IDPP is a multidisciplinary, cross-campus research center, which produces knowledge that enables all people to participate in different levels of governance through accessible information and communication technologies. This role allowed Okogo to attend and report on the United Nations Conference of State Parties COSP-7, specifically focusing on the implementation of the Convention on the Rights of Persons with Disabilities.
Gabonese ambassador to the US Michael Moussa-Adamo took notice of Okogo's pursuit of a master's from AU and his work at IDPP. In 2012, he invited Okogo to the Embassy of Gabon in DC so he could meet with President Bongo and First Lady Sylvia Bongo Ondimba, who were visiting DC at the time. That's how he first became connected with the leader of Gabon.
"They were very interested in the fact that I was getting a master's degree, and they asked me about when I was going back to Gabon and if I would help people with disabilities there because I was at the IDPP," says Okogo.
After completing his education at SIS, Okogo returned to Gabon and was welcomed back by the President and First Lady. For six months, Okogo worked at Ondimba's eponymous foundation, which aims to improve the lives of people who are vulnerable and disadvantaged. He then became an advisor in the Office of the President.
Working to Improve Social Progress in Gabon
Okogo has introduced and worked on a number of social initiatives during his tenure, from helping Gabonese people with disabilities obtain accessible housing to specifically addressing the needs of people using wheelchairs. For these types of projects, Okogo has spoken with a variety of people in Gabon with disabilities to learn more about their lives and the barriers they currently face. Gabon is now also focusing on gender equality and LGBTQ+ rights: "I think we're really on the way to progressing Gabonese society for people who have been marginalized."
Since 2018, Okogo has spearheaded an initiative that focuses specifically on the deaf community in Gabon: empowering more Gabonese people who are deaf to pursue higher education. Okogo has coordinated with colleges in the US so that students can travel and study there. Currently, four students are slated to take part in the program, and he hopes the momentum will continue with more students studying abroad in the future. Okogo also recently travelled to Rwanda to scout out colleges which would accept students with disabilities.
"I love my job. It's close to my heart, what I do," says Okogo. "Since I've been back in Gabon, I've really enjoyed working on issues for people with disabilities, because disabled people in our country are left behind in society."
Continuing to Use His SIS Education
Okogo looks back fondly at his time at SIS. He emphasizes that the way he approaches his work in the Office of the President has been influenced by the teaching and mentorship of several faculty members, including professor and executive director of IDPP Derrick Cogburn, professor and dean emeritus Louis Goodman, professor Barbara Wien, and former SIS professor Evan Berry.
"My professors encouraged and inspired me," says Okogo. "I've used what I've learned in my ethics course in my work related to disability issues and human rights, as a lot of the work is connected to ethics. What I learned in my global governance course also is very relevant to what I do in the Office of the President."
During our interview, he pulls out his copy of Martha Nussbaum's Frontiers of Justice: Disability, Nationality, Species Membership and points to the cover: "I still read many of the books that I used during my studies at AU, like this one. I've had to be creative when speaking to different stakeholders, and I've learned to do so through my education—everything I learned at AU is relevant to what I'm doing in my new job. The degree that I got from AU is valuable worldwide."