International
SIS Names Inaugural Abdul Aziz Said Peace Scholars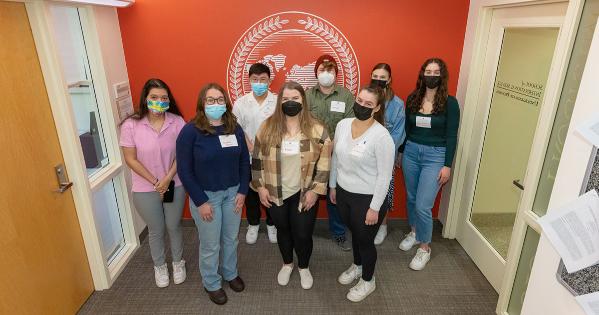 On April 27, a group of nineteen SIS students was named the inaugural group of Abdul Aziz Said Peace Scholars, an honor named after the longtime SIS professor and founder of the International Peace and Conflict Resolution graduate program, Abdul Aziz Said, SIS/BS '54, SIS/MA '55, SIS/PhD '57. The group of freshmen will embark on this new path for SIS undergraduates in their sophomore years.
The Said Peace Scholars program is designed for a small cohort of no more than 20 students who wish to advance Said's life's mission through the study of peace, conflict resolution, and interfaith dialogue. Said Peace Scholars will enroll in a specially designated section of Intercultural Communication (SISU-205) in the fall semester and in a specially designated section of Peace, Global Security, and Conflict Resolution (SISU-210) in the spring semester. They will participate in various thematically relevant extracurricular events in addition to a spring Alternative Break program.
The students, who have demonstrated interest in pursuing a primary or secondary thematic area focus on Peace, Global Security, and Conflict Resolution, all have unique reasons for choosing the study of peace.
"My passion for global educational equity was a key factor in my decision to apply to become a Said Peace Scholar," says Chloe Baldauf, SIS/BA '25. "From the Russo-Ukrainian war displacing nearly two-thirds of Ukrainian children to the war in Syria keeping over half of Syrian children from attending school, it has become undeniably evident that international educational equity cannot be achieved until peaceful conflict resolution is prioritized by every nation-state."
Eleanor Wieshuber, SIS/BA '25, drew on her background for inspiration: "I come from very diverse communities in three Chicago Public Schools that have allowed me to meet and grow with peers from a wide variety of backgrounds. This upbringing has only encouraged me to learn more about identities unlike my own. Under the teaching of SIS professor Wigfall-Williams my first semester, I felt inspired to apply to this program to enrich my knowledge and path into this exploration of identities and how they interact on a global scale."
A faculty member at the university for 59 years who even attended the SIS groundbreaking ceremony in 1957, Professor Said personified SIS's mission of waging peace through his teaching, scholarship, and activism. The Said Peace Scholars Program aims to honor his legacy by training the next generation of undergraduate students to build upon and continue his work.
This would have been in accord with Said's wishes, according to Dean Christine BN Chin: "People were precious to him, regardless of their station in life. He was always interested in the up-and-coming generation. He believed that they would be leaders in time—as one generation gives way to the next."
The newly named Said Peace Scholars have high hopes that the program will help inform their continuing education and future career plans.
"While I'm hoping the Said Peace Scholars program will help guide me on a path for my future and finding a fulfilling career, my current goal is to help manage international nonprofits that work to build peace globally," says Wieshuber.
"I believe, one way or another, I'll find myself back in a classroom after I graduate from AU," says Baldauf. "Whether that be as a teacher, a professor, an education policy analyst, or an international and comparative education researcher, my heart will always be in the classroom. It is through supporting the education of our next generations that I hope to advance Professor Abdul Aziz Said's life mission."
Professor Said was a trailblazer who helped build the field of peace and conflict resolution in the United States. His scholarship drew early attention to topics underrecognized in the field that subsequently came to the forefront of studies in international relations. His expertise was widely recognized by policymakers and thought leaders in and outside of government, and he consulted on matters pertaining to the Middle East, to Islam, and to peace with the US Departments of State and Defense, the United Nations, and the White House Committee on the Islamic World.
The application period to become Abdul Aziz Said Peace Scholars opens in January. For more information about the program, including criteria and the availability of travel scholarships for qualifying students to help defray the cost of the Alternative Break trip, is available on the SIS website.