United Nations University for Peace San José, Costa Rica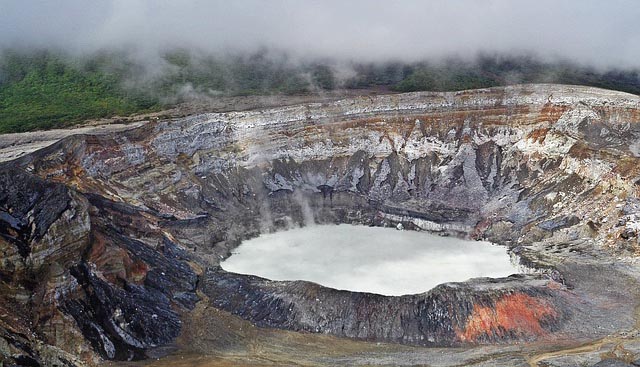 The United Nations University for Peace (UPEACE), established in 1980 by the UN General Assembly under its own charter, strives to be a forward-thinking, transformational and inspirational educational institution dedicated to the goals of quality teaching, research and service for serving humanity in building a peaceful world. UPEACE attracts students and faculty from around the world and is a truly global community, providing an invaluable networking resource for students who plan to pursue an international career. The campus is located near San José within a beautiful nature reserve composed of secondary forest and the last remnant of primary forest in Costa Rica.
Academic Calendar
Fall Semester

August - December

Spring Semester

January - May
Courses
Students will enroll as full-time students for one semester alongside UPEACE graduate students, and earn up to 9 credits toward their graduate degree from AU. 
UPEACE courses normally last one week per credit with classes ranging anywhere from one to three credits. Classes are thus highly intensive with daily meetings and do not allow students to concurrently undertake internships. Students will only take one course at a time.
Programs of study include:
Environment, Development, and Peace
Gender and Peacebuilding
International Law
International Peace Studies
Media, Peace, and Conflict Studies
Peace Education
Responsible Management and Sustainable Economic Development
Note: SIS graduate students in the International Peace and Conflict Resolution (IPCR) program who wish to take UPEACE courses for the Media, Peace, and Conflict Studies or Gender and Peacebuilding concentrations must declare their intention in their application. They must also obtain clearance from their Graduate Academic Advisor for IPCR before applying.
Language Requirement
As UPEACE is an English-language institution, there is no Spanish language pre-requisite. However, students are encouraged to study Spanish prior to beginning the program in order to gain communication skills for daily life in Costa Rica.
Registration
Students are registered through the SIS Office of International Programs for up to 9 AU-UPEACE exchange credits (SIS-609). These exchange credits cover courses at UPEACE only; research and/or internship credit is registered under normal AU guidelines.
Students are required to meet with their AU advisor and obtain formal pre-approval before registering for courses at UPEACE. This ensures that all credits earned at UPEACE can be applied toward the student's AU degree. Students register for UPEACE courses via an online portal prior to the start of the semester. Credit articulation: Grades and credits earned at UPEACE are articulated through the SIS Office of International Programs upon receipt of an official transcript from UPEACE.
For conversion purposes, students should expect 1 UPEACE credit to equal 1 AU credit. However, the grading scale used at UPEACE is different from that used at AU and will be explained to students prior to their departure.
Tuition and Fees
Students pay regular tuition, emergency international health insurance, and technology fees to AU. Students do not pay the student activity fee, sports center fee, or SIS fee while studying at UPEACE if they spend the entire semester at UPEACE. Students are responsible for any incidental costs, such as library fines and lab fees, incurred during the program. Students are responsible for all personal expenses including housing and transportation. 
Housing
Students are responsible for arranging their housing and for all associated costs. UPEACE can assist students in finding accommodation near campus. Students will be asked to indicate their preference for a home-stay, furnished apartment, or independent accommodation. Rates for accommodation vary, and students pay their landlords directly. Students who wish to arrange their own accommodation ("independent accommodation") can ask the SIS Office of International Programs to connect them with past program participants.
Immigration & Visa Requirements
Depending on citizenship, an entry visa to Costa Rica may be needed. The Department of Academic Administration (DAA) at UPEACE assists students who need this visa in obtaining all proper documentation from the Directorate General of Immigration in Costa Rica. All students, regardless of citizenship, are also required to have legal status in Costa Rica through a student temporary student permit (STP). Once admitted to the program, students will be directed by UPEACE as to what materials they will need to obtain and bring with them to orientation in order to apply for the STP. Students are responsible for researching the most up-to-date immigration requirements and arranging all immigration documents.
Student Orientations
During the semester prior to the start of the program, the SIS Office of International Programs conducts a mandatory pre-departure meeting. Topics covered include administrative, logistical, security, health, and cross-cultural issues. UPEACE also holds a new student orientation at the beginning of each semester. AU students are encouraged to participate, as it can be a valuable resource for learning about the university and community.
This program is compatible with International Peace and Conflict Resolution, Ethics, Peace and Human Rights, International Development, Global Environmental Politics and Intercultural Communication/Management. 
Students may select courses from any MA program at UPEACE.
Learning directly from practitioners
Colleen Moore, SIS/MA '18
UPEACE itself and Costa Rica more broadly are very welcoming.
The professors at UPEACE truly care about the students and provide hands-on learning as top practitioners in their fields. The campus itself is beautiful, and the location of the university is convenient, with the city of San Jose being very close and having access to the various attractions that Costa Rica has to offer.