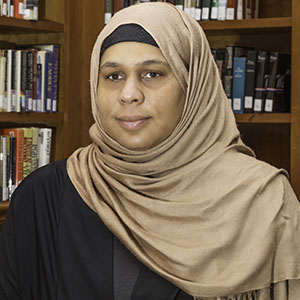 Amaarah DeCuir

Sr Prof Lecturer, CTRL Senior Inclusive Pedagogy Fellow and AUx Faculty Fellow SOE School of Education
Degrees

Ed.D., The George Washington University

M.Ed., Howard University

B.A., University of California, Berkeley

Bio

Amaarah DeCuir, EdD, educator, researcher, and inclusive pedagogy fellow, is a faculty member at American University in the School of Education and an Executive Board member at the Center for Islam in the Contemporary World at Shenandoah University. Her scholarship spans the areas of antiracist pedagogy, Muslim student experiences, Prophetic pedagogy, faith erasure, equity, antiracism and social justice, education leadership, teacher education, and faculty development. Dr. DeCuir has published articles and chapters in peer-reviewed journals and books and her public scholarship appears in news and media outlets. A highly regarded educator and facilitator, Dr. DeCuir teaches Education Studies and Social Justice, Education Leadership, and teaches an Antiracist Research Methods course she co-designed. She brings over 20 years of teaching and leadership experiences from public and private K-12 schools to inform her current work in higher education.
Spring 2023
EDU-205 Schools and Society

EDU-294 Comm Service Learning Project: Schools and Society
Summer 2023
EDU-880 Pre-Dissertation Seminar
Fall 2023
CORE-106 Complex Problems Seminar: No Child Left Behind, Really?

EDU-710 Apply Antiracist Methods II