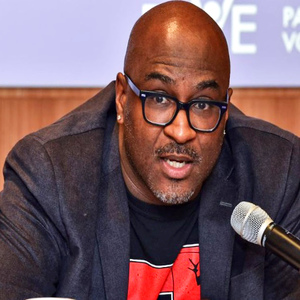 Robert Simmons

Scholar in Residence and Scholar of Antiracist Praxis SOE School of Education
Degrees

Georgetown University, Executive Certificate in Nonprofit Management
EdD, Hamline University
MSE (Masters of Science Education), Lawrence Technological University
BS, Western Michigan University

Favorite Spot on Campus

Library

Book Currently Reading

Black Girl Literacies: Transforming Lives and Literacy Practices

Bio

Robert began his career as a middle school STEM teacher in the Detroit Public Schools. As a former teacher, school administrator, school district senior leader, and tenured professor of urban education at Loyola University Maryland. Dr. Simmons' research seeks to illuminate the lived realities of historically marginalized communities across multiple K-12 contexts. More specifically, he explores the experiences of Black students and teachers in a variety of contexts, including--public school districts, public charter schools and Jesuit high schools. Additionally, Robert's work explores antiracist praxis in K-12 schools and nonprofit organizations.

Dr. Simmons' work has been published in several national refereed journals including Urban Education; Journal of Urban Learning, Teaching and Research; Journal of African American Males in Urban Education; and the International Journal of Critical Pedagogy. His work has been celebrated through awards and honors including the Emerging Scholar in Service-Learning award, Outstanding Alumni Award from the College of Education and Human Development at Western Michigan University, Faculty of the Year in the Graduate School of Education at Hamline University, and being nominated twice as the Walt Disney National Teacher of the Year for his teaching in the Detroit Public Schools. Having served as a co-editor of Talking about Race, Dr. Simmons and a team of colleagues had the honor of having their paper focusing on the experiences of Black boys and school counselors in urban schools honored as Urban Education Editor's Choice Selection. Robert is currently a member of the Diversity Scholars Network at the National Center for Institutional Diversity (University of Michigan), and a board member with the Latinx Education Collaborative and Integrated Schools.
Spring 2022
EDU-704 Antiracism, Equity & Inclusion

EDU-735 Communication in Education
Summer 2022
EDU-737 Political Navigation
Fall 2022
EDU-681 Managing Non-Profit Orgs

EDU-704 Antiracism, Equity & Inclusion