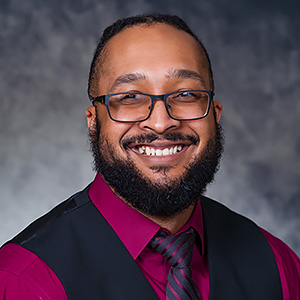 Arthur Stallworth

Associate Director, First Year Advising SOE School of Education
Degrees

Doctorate of Education Interdisciplinary Leadership (Ed.D.)
Masters of Science Biomedical Sciences (M.S.)
Bachelors of Art Psychology (B.A.)

Bio

Arthur Stallworth (he/him/his) has a dynamic background in Higher Education. He has earned a Doctorate of Education (EdD) in Interdisciplinary Leadership, Masters of Biomedical Sciences (MS), and Bachelors of Arts in Psychology (BA) all from Creighton University in Omaha, NE. He views himself as a scientist at heart and believes the scientific method can be used in all fields to garner novel ideas and results. He has made it his goal to help eliminate barriers to higher education for all those that want to take part in expanding their knowledge. He has done so by being a part of grants that address the paucity of unrepresented students in the health sciences to serving as an advisor for students of all ages, creeds, and backgrounds.
Spring 2023
CORE-200 AU Experience II

CORE-200 AU Experience II
Fall 2023
CORE-196 Selected Topics: Non-Recurring: AU Experience I