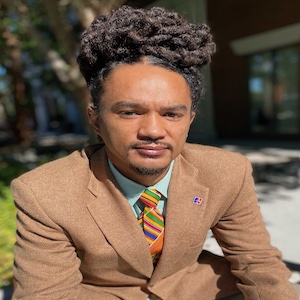 William Thomas

Professorial Lecturer and AUx Faculty Fellow SOE School of Education
Degrees

EdD University of Pennsylvania, Educational Leadership II MPS George Washington University, Middle-Grade Science II BA Morehouse College, English

Favorite Place in Washington DC

Smithsonian National Museum of Natural History

Book Currently Reading

White Logic, White Methods: Racism and Methodology (by Tukufu Zuberi and Professor, Eduardo Bonilla-Silva)

Bio

William N. Thomas IV joined the faculty at American University in 2021 as a Professorial Lecturer in the School of Education's EdD program.



After graduating in 2004 with a BA degree in English from Morehouse College, Dr. Thomas taught in Washington, DC for eight years as a science teacher and received a Master's degree from the George Washington University in Middle School Science.
From 2012 to 2014 he was promoted to principal of the Community Academy Public Charter School's Butler Global Campus and helped to create an authentic global culture for the school.

After serving as the Academy Leader for the campus, he decided to transition to secondary school leadership and earned the position of Director of High School Programs for Paul International High School and helped the school in the development of a 21st century international studies program. During his time, he traveled to Panama, London and Costa Rica with Paul PCS students and increased opportunities for students to travel. In addition, he led the My Brother's Keeper mentoring program at the school establishing a monthly Saturday Academy, weekly mentoring and an annual male team builder.

His passion for developing young males of color led him to go back to the classroom to teach at the Ron Brown College Preparatory High School as a Biology teacher for two years. He led the development of a new all-male high school using an event-based approach to teaching NGSS cross-cutting science concepts. He also was the founding sponsor of the school's chapter of the National Honor Society and facilitated the Morehouse Mystique mentoring program for ninth grade students.

His service leadership is grounded in a growth mindset that promotes reciprocal development through open communication, trust, motivation and accountability. In addition, William believes that strategic programming that meets students in and out of the classroom is key in the development of 21st century skills.

Recently, William served as the Director of Science for the Mastery Charter Schools of Philadelphia and Camden. He led the network's science program by supporting and building capacity of K-12 educators through curriculum development, strategic implementation, collaborative leadership, professional development and effective use of data and research. Dr. Thomas has a particular research interest in Global Education, Culturally Responsive Teaching in STEM education and the experience of Black Male Teachers in various public-school systems. His doctoral studies unpacked the intersectionality of self-motivation, professional development and young males of color as it relates to teacher retention of Black men in public-schools.
Spring 2022
EDU-711 Applied Methods II

EDU-898 Doctoral Continuing Enrollment
Summer 2022
EDU-703 Designing Problem of Practice

EDU-796 Selected Topics:Non-Recurring: Educ in Pop Cultr: Implct Bias

EDU-796 Selected Topics:Non-Recurring: Educ in Pop Cultr: Implct Bias

EDU-899 Doctoral Dissertation
Fall 2022
EDU-704 Antiracism, Equity & Inclusion