On Campus
#SPA80for80: Professor Chris Edelson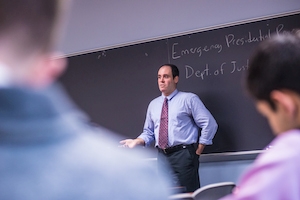 When it comes to emergency presidential power and the war on terror, Professor Chris Edelson literally wrote the book.
Emergency Presidential Power: From the Drafting of the Constitution to the War on Terror, was published by the University of Wisconsin Press in fall 2013. It received the 2014 Crader Family Book Prize in American Values.
The book explores recent questions involving the scope and limits of presidential power, including whether the president can order the deaths of American citizens who are suspected terrorist leaders on his own authority and whether doctrines of state secrecy can be employed to block lawsuits claiming executive overreach. The book also addresses presidential authority to unilaterally order the use of military force, warrantless wiretapping, torture, and indefinite detention.
Edelson also explores the historical scope of presidential power in the context of national security as outlined in the Constitution and put into practice by presidents beginning with George Washington. The book addresses emergency powers exercised by Abraham Lincoln during the Civil War, and Franklin Roosevelt's treatment of German saboteurs and Japanese-Americans during and after World War II, as well as actions taken by other presidents.
Edelson's teaching and research interests focus on presidential power constitutional interpretation, and the U.S. Supreme Court.
Edelson has appeared on C-SPAN, Reason TV, and Al-Jazeera America. His writing has appeared in a number of academic and popular publications, including Presidential Studies Quarterly, the Los Angeles Times, and the National Constitution Center's Constitution Daily Blog. He's also working on a new book comparing the George W. Bush and Barack Obama presidencies in the area of national security power.
Prior to joining SPA, Edelson practiced employment discrimination law and also served as state legislative director for the Human Rights Campaign, where he implemented state legislative strategy for the national LGBT civil rights organization. He created a curriculum on courts and LGBT rights, including a written guide and DVD, for use with high school and college students.
Edelson also served as a practicing lawyer with his main practice area in employment discrimination litigation. He received his J.D. from Harvard Law School and a B.A. from Brandeis University. Currently, he serves as director of the Politics, Policy, and Law Scholars Program (PPL), and faculty advisor for the AU College Democrats.
#MySPAHistory
"My dream for many years was to teach and I am deeply grateful to have had that dream fulfilled in SPA. Having the opportunity to both teach and learn from the incredibly talented and astute students in SPA is a privilege. Hearing from students in the classroom constantly gives me new ideas to write about and energizes me to discuss current political issues. I want to thank them for making my job incredibly fun and for making teaching everything that I hoped it could be (or perhaps even more than I could have hoped for)."