Alumni
#SPA80for80: Loren Duggan, SPA/BA '00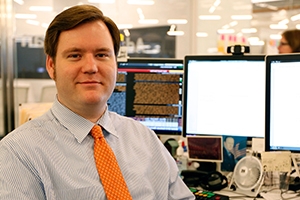 Throughout his career, Loren Duggan has learned from mentors – and then trained a new generation of reporters and analysts – to help demystify the legislative process.
"So much of what happens on Capitol Hill can be opaque, whether it's a question of process or figuring out what a particular bill would do if it became law. Working with an analyst or reporter and helping put out the best content we can every day is very rewarding."
Duggan spent nearly a decade at Congressional Quarterly, where he was able to make major contributions to its legislative tracking service. He became a writer for House Action Reports (HAR), which provides non-partisan analysis of legislation scheduled for consideration by the U.S. House of Representatives.
When the longtime editor of HAR retired, Duggan was given the opportunity to take the position and continue the HAR's legacy. "I was able to learn from great mentors at CQ and then train another generation of reporters and analysts to continue the company's traditions."
In early 2011, Duggan joined Bloomberg Government (BGOV), where he serves as Director of Legislative Analysis, providing senior leadership and helping to shape BGOV's legislative coverage.
He helps shape the congressional coverage for a data and analysis product aimed at government professionals. He also helped launch Congress Tracker, which started as a blog but soon expanded to include legislative summaries and other coverage of the legislative process. 
A recent highlight was moderating a panel two days after the election with five former members of Congress.
"Most of my career has focused on following the legislative process, as well as legislation under consideration, and then presenting it to readers to help them understand what's happening. I love hearing from a reader that our coverage helped them do their job."
Duggan attributes his ability to uncover what's happening on the Hill and in the two chambers to the world-class education he received at American University.
During his time at the School of Public Affairs, Duggan participated in several areas of student government: in the General Assembly, as a member of the Board of Elections, and for two years working with the Kennedy Political Union.
He also found his internships very rewarding, serving in a Senate office and abroad in London with a member of the House of Commons. He encourages current SPA students to take advantage of internships in the same way. "They will give you real-world experience and expose you to new people. If you're on the fence about a path in your career, do more than one."
#MySPAHistory
"I had several SPA professors who focused their career on Congress, and it's clear that they influenced my career path. Those classes laid the foundation for my own interest in Congress."