On Campus
#SPA80for80: Professor Tricia Bacon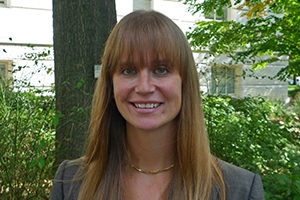 Experts like Tricia Bacon provide SPA students with real-world experience in tackling one of the world's most complicated issues. Currently a professorial lecturer in the Department of Justice, Law and Criminology, Bacon brings 11 years of counterterrorism experience at the State Department and her award-winning research to AU's classrooms.
At the State Department, Bacon worked in the Bureau of Intelligence and Research, the Bureau of Counterterrorism, and the Bureau of Diplomatic Security. Her work has received numerous accolades, and she conducted research and analysis on counterterrorism in South Asia, North Africa, East Africa, Europe, and Southeast Asia.
Bacon's research contradicts commonly held assumptions that terrorist organizations easily form alliances out of ideological solidarity or common enemies. Bacon has argued that alliances are rare, with only a tiny number of attacks carried out jointly by multiple organizations, due to the difficulty forging trust between groups.
She completed her dissertation, entitled Strange Bedfellows or Brothers-in-Arms: Why Terrorist Groups Ally, at Georgetown University. It recently earned the Best Thesis Award from the Terrorism Research Initiative (TRI), a project of the Center for Terrorism and Security Studies.
Bacon's analysis comes from a broad range of primary sources, including from North Africa, the Middle East, and South Asia. "The jury was impressed by Dr. Bacon's command of the materials studied, the elegant style in which the thesis was written and the convincingly argued chief finding that contradicts conventional wisdom," TRI wrote.
An article based on parts of her dissertation has been included in the most recent issue of Perspectives on Terrorism. In 2015, the University of Pennsylvania Press will publish a book-length volume based on her nearly 800-page text.
#MySPAHistory
"I am thrilled to be part of the dynamic and growing Terrorism and Homeland Security program at SPA. It offers the perfect place to both do scholarly research with policy relevance and teach tomorrow's leaders in this important field."