Objective Faculty Experts, On Facebook, Answering Your Questions, in Real Time
American University's School of Public Affairs will host faculty experts on Facebook Live to help answer your questions in real time.
1 Issue. 1 Expert. 30 Minutes.
It's hard to keep up with the news right now. But SPA faculty experts have spent years studying the very topics making headlines. They are objective leaders in their fields, and have answers to your burning questions.
Join us for the SPA Policy Explainer - LIVE - on our Facebook page. Check back for updates or view the archives below.
What do you want to hear about? Send us your questions via form or on Twitter: #PolicyExplainer and @AU_SPA.
Race, Class, and Politics in "The Cappuccino City"
The phrase "cappuccino city" refers to previously low-income, minority neighborhoods that are experiencing major demographic shifts caused by the influx of mid-to-upper income, white millennials. It's happening in the Bronx in New York City, in Chicago's Bronzeville neighborhood, and in the Shaw area of Washington, D.C. Shaw is the neighborhood at the center of SPA Associate Professor Derek Hyra's new book, Race, Class, and Politics in the Cappuccino City.
View video
Early Childcare Policy Explainer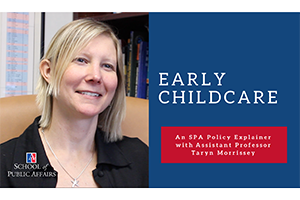 SPA Assistant Professor Taryn Morrissey's work centers on examining and improving public policies for vulnerable children. Ongoing research examines the social determinants of food insecurity and obesity, and the impacts of neighborhood poverty and family instability on children's development. She is one of the authors of the book, Cradle to Kindergarten: A New Plan to Combat Inequality.
View video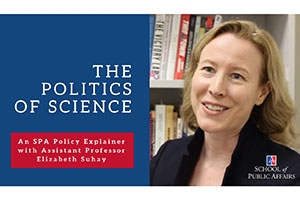 In an era of political polarization, science is sometimes used as rhetorical weapon. Research findings for a wide variety of issues — ranging from the economy to climate change, poverty to immunizations — have become political talking points. Watch as SPA Assistant Professor Liz Suhay, an expert in political bias, talks about the politics of science.
View video