Environment
CEP Now Accepting Nominations for William K. Reilly Awards for Environmental Leadership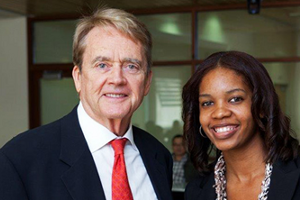 The Center for Environmental Policy at American University's School of Public Affairs is seeking nominations for the William K. Reilly Awards for Environmental Leadership.

The third annual Reilly Awards, named in honor of one of the most respected leaders in U.S. environmental policy, will be given at a ceremony in March at American University in Washington, D.C.

"The Center for Environmental Policy is focused on improving environmental governance in the United States and finding innovative approaches to the most pressing environmental challenges," said executive director Dan Fiorino. "We want to recognize people who are making a difference to improve environmental outcomes."
Nominations for the awards can be submitted here by January 31, 2015.
The Reilly Awards recognize the accomplishments of outstanding environmental leaders who have demonstrated innovation and effective problem-solving while engaging diverse interests and encouraging future environmental leaders.

Two Reilly Awards will be given—one for an individual in government (local, state, tribal or federal) and the other for an individual in the non-profit or business sectors. The nominations will be evaluated against the following criteria:
Provided effective leadership over a sustained period of time in environmental, energy, or sustainability issues in the United States;
Contributed to innovations in environmental solutions or new approaches to environmental, natural resources or energy policy;
Demonstrated the ability to engage and inspire others in achieving significant results;
Worked across the public, private, and non-profit sectors to solve problems in an inclusive and bi-partisan manner; and
Inspired or mentored early-career professionals.
Reilly was Administrator of the Environmental Protection Agency under President George H. W. Bush. In 2010, he was appointed by President Barack Obama as co-chair of the National Commission on the BP Deepwater Horizon Oil Spill and Offshore Drilling to investigate the oil spill in the Gulf of Mexico. 
Decisions about the awards will be made by a subcommittee of the Program Advisory Board of the Center for Environmental Policy.