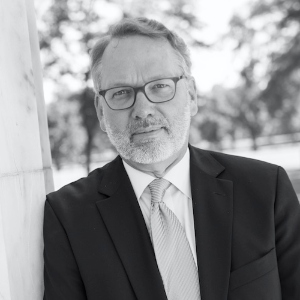 Christopher Bertram

Adjunct Assoc Prof Washington College of Law
Bio

Chris Bertram is a Fellow of the Center for Congressional and Presidential Studies and a Co-founder of the American University Program on Legislative Negotiation (PLN). Chris has held senior positions in the United States House of Representatives, United States Senate, and the Executive Branch during his career.

At PLN, Bertram developed courses related to legislative and political negotiations and trained almost 300 Congressional staff.

Most recently, Chris was the Staff Director for the Committee on Transportation and Infrastructure of the United States House of Representatives. During his tenure, Bertram served as the Chairman's Senior Staffer for all legislative activity within the Transportation and Infrastructure Committee's jurisdiction.

Before serving as Staff Director, Bertram was nominated by President Obama to be the Assistant Secretary for Budget and Programs and the Chief Financial Officer for the United States Department of Transportation, a position to which the United States Senate unanimously confirmed him. As Assistant Secretary, Chris was responsible for overseeing the Department's budget, which totals almost 70 billion per year. Bertram testified over a dozen times before Congress and served as liaison for financial issues with the White House's Office of Management and Budget and Congress. Bertram also served as a member of the Northeast Corridor Commission and was awarded the Secretary of Transportation's Gold Medal -- the Department's highest honor.

Chris was also a senior professional staff member with the Senate Committee on Commerce, Science, and Transportation. In that position, he was involved in developing legislation related to aviation, auto and highway safety, transportation security, the 9/11 Commission, pipelines, railroads, and fuel efficiency standards for automobiles.

Chris also held the position of the Federal Aviation Administration's Assistant Administrator for Financial Services and Chief Financial Officer. Early in his career, Chris served in various roles at the White House's Office of Management and Budget.

Bertram received his Bachelor of Arts degree from Trinity University in San Antonio, Texas. He also earned his Master's in Public Policy from Harvard University.
2023 Term 2
LGLS-695B US Legislation - Leg Skills
2023 Term 3
LGLS-695D Immersion: Legislation