Key Executive Women in Leadership Forum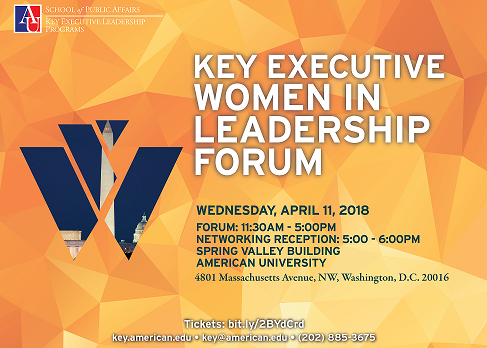 The Key Executive Leadership Programs is hosting its first Key Executive Women in Leadership Forum. In honor of women's history month, the forum will be held on April 11, featuring plenary speakers, working sessions, and networking activities. This forum will focus on women executives and leadership roles in the government today.
Read more about the Key Executive Women in Leadership Forum.
Location and Time
Date:

Wednesday, APRIL 11, 2018

Time:

11:30am - 5:00pm: Forum
5:00 - 6:00pm: Networking Reception

Location:

American University - Spring Valley Building
6th floor, Room 602
4801 Massachusetts Avenue, NW
Washington, DC 20016

Cost:

$50/person
 
AU Full-time Student Discount Code: AUStudent
AU Alumni Discount Code: AUAlum
Schedule
Session Descriptions
Leadership and Addressing Harassment
Whether in the press, television or various modes of social media, discussion of sexual harassment and the "Me Too" movement is everywhere. As leaders in the Federal government we must all have a better understanding of harassment and what we can do to identify and eliminate such conduct from the federal workplace at the early stages. In addition to a general overview of the law, a discussion of a 2016 EEOC study on harassment will provide insight, and you will learn what you can do if you, as an employee, experience harassing conduct or witness it as a bystander. You will learn what your obligations are as a supervisor if you observe harassing conduct or if harassment is reported to you, and you will receive practical guidance on preparing effective training, policies, and investigation procedures for your agency. Finally, as leaders, you will be asked to reflect on what you and your agency can do, or do better, to help create a work environment that promotes mutual respect among all employees and addresses harassing conduct early, promptly and effectively, before it undermines the mission and productivity of your agency. 
Advancement and Promotion
Research has shown that even though the majority of women and men both express the desire to be promoted, women are still less likely to advance to the next level in their organization. Some have suggested that women are as much as 15% less likely than men to get promoted. This is especially perplexing when you consider that once in roles of leadership, women are less likely to leave than men. This panel will examine current thought and practice on advancement and promotion of women in the workplace, along with the requisite leadership challenges. In this interactive session, topics will include the value of strategic networking, the myth of having family versus career, unconscious bias regarding women in leadership roles, the question of women as collaborators versus leaders, and authoritative presence.  
11:30am:

Registration

12:00 - 1:30pm:

Lunch and Plenary Speaker: Clare Bresnahan English, Executive Director, She Should Run 

1:45 - 3:00pm:

Session I: Leadership and Addressing Harassment with Mark Maxin, Faculty Member, Key Executive Leadership Programs; and Carol Miaskoff, Associate Legal Counsel, Equal Employment Opportunity Commission

3:15 - 4:30pm:

Session II: Advancement and Promotion with Gwen Sykes, CFO, U.S. Secret Service; Allison Ford, Manager, International Government Relations at United Technologies; Towanda A. Brooks, Chief Human Capital Officer, U.S. Department of Housing and Urban Development; and Boyden Rohner, Director of Cybersecurity Director of Cybersecurity Operations, Information Security Office, Department of Homeland Security (DHS)

4:30 - 5:00pm:

Closing Remarks with Charlotte Burrows, Commissioner, EEOC and Co-Chair with the OPM Director of the Diversity and Inclusion Governmentwide Council

5:00 - 6:00pm:

Networking Reception