Achievements
SPA Students Recognized with 2018 American University Awards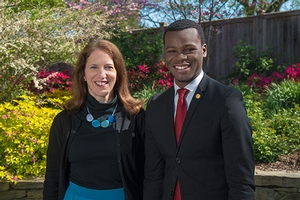 AU School of Public Affairs students were among those recently honored with University Awards for their exceptional work and accomplishments. 

Shyheim Snead, SPA/BA '18, received the 2018 President's Award, the university's highest honor for a graduating senior.

"I'm immensely proud, humbled, honored and excited for the recognition - for what it means for me and my family," said Snead. "I'm thankful to my friends who supported me and got me to this point."
An active student on and off campus, Snead was director of the Kennedy Political Union and served on the AU Board of Trustees. He worked in the D.C. Mayor's Office and was in the Urban Education Leaders Internship Program for D.C. Public Schools.

"I wouldn't be receiving the award if it wasn't for the investment of so many people at the university both fellow students, faculty, staff, trustees - people who have selflessly given their time to support and mentor me," said Snead.

Snead, who is also a Harry S. Truman Scholarship recipient, spoke about his passion for education policy at TEDxAmericanUniversity in 2017.
 
Four other SPA students were honored with university awards this year. They are as follows:
Devontae Wilfredo Torriente, SPA/'18 - Outstanding Service to the University Community Award for demonstrating unique contributions and sustained service that will leave a lasting impact on the university community.
Saagar Ram Gupta, SPA/'18, and Mary-Margaret Koch, SPA/SOC '18 - Bruce Hughes Student Achievement Award for outstanding service to the university community and demonstrating unusual depth and maturity in leadership abilities.
Taylor Alexis Dumpson, SPA/ '18 - Harold Johnson Student Achievement Award for promoting understanding and acceptance of cultural and racial diversity within the University community.
In addition to the student University Awards, several SPA students were honored with scholarships and fellowships that recognize students that demonstrate exceptional academic success.
Amy Michelle Chin-Lai, SPA/BA '18, was awarded the Benjamin A. Gilman Scholarship to study abroad and help promote diversity among students and encourage consideration of nontraditional destinations, especially those outside of Western Europe and Australia.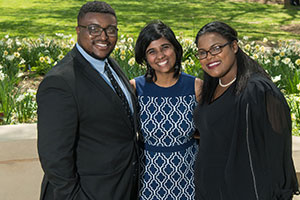 Lexi Ivers, SPA/BA '18, was awarded with several scholarships and fellowships leading up to her graduation, including the Harry S. Truman Scholarship, which aims to support future generations who answer the call to public service; a fellowship from the New York Urban Fellows Program, which introduces college students and graduates to local government and public service; Ivers attended the Fulbright UK Summer Institutes, a series of cultural and academic programs at universities throughout the UK; and she received the Public Policy and International Affairs Fellowship, which prepares young adults for careers and influential roles serving the public good.

Jacqueline Lantsman, SPA/BA '19, and Annaka Groschinski, SPA/BA '19 were recently selected by the AU Office of Undergraduate Education to participate in the 2018 AU Summer Scholars and Artists Program. This prestigious opportunity is offered to only eight undergraduate students. Both students will receive a $4,000 payment to conduct full-time research that demonstrates the potential to lead to significant scholarly or creative work. Lantsman was also recognized with the Vivian Drenckham Award from the Society of Public Health for her death row inmate research earlier this year.

"One of the greatest honors I have as a dean is getting to celebrate and honor the hardworking students, faculty, and staff of SPA," said SPA Dean Vicky Wilkins. "It's a joy to celebrate everyone's hard work and accomplishments."