Achievements
Academy of Management Convention Showcases SPA Scholars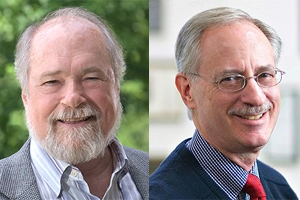 Two School of Public Affairs (SPA) scholars played prominent roles at the recent Academy of Management convention in Canada – one winning a prestigious career award and the other reconceptualizing the field of Organization Development (OD).
Adjunct Professor David Jamieson, who designed and leads the Practicum Project course in the Master of Science in Organization Development (MSOD) program, was given the hallowed Distinguished Scholar-Practitioner Award at the 75th annual convention of the Academy in Vancouver, B.C., Canada.
The honor is given to scholars who, over the course of a career, have made significant contributions to theory and research, and who are highly respected in their field.
Ruth Wagner, director of the MSOD program, said that his career award is one of the Academy's most prestigious honors. She said he was especially deserving because of his contribution to both scholarly and practitioner literature. His integration of the two is reflected in how he designed the practicum course at SPA.
"Dave has carefully crafted this course so that students are challenged and they get a chance to demonstrate to themselves and to others that they really are integrating both their scholarly knowledge and skills as a practitioner," Wagner said. "And now the person who crafted our practicum course has been acknowledged as a distinguished scholar-practitioner in the field of OD."
Robert J. Marshak, Distinguished Scholar in Residence in SPA, has taught in the MSOD program since 1980. He and his colleague, Gervase R. Bushe, of Canada's Simon Fraser University, held the first international conference on dialogic organization development the day before the Academy convention, which ran Aug. 7-11.
Marshak and Bushe are co-creators of the concept and term "Dialogic Organization Development" or Dialogic OD. They also are co-editors of the first book on the subject: Dialogic Organization Development: The Theory and Practice of Transformational Change.
The all-day Dialogic OD conference was sold out, attracting attendees from around the world. Marshak and Bushe introduced key concepts of the book and authors of some of the chapters held interactive workshops. These same set of scholar-practitioners also held a PDW or practitioner development workshop as part of the Academy events.
"An editor of one of the OD journals was quoted as saying that the Dialogic OD concept will force a reexamination in the field of OD and textbooks will have to be rewritten," Wagner said.
The AOM convention attracted about 11,000 attendees from around the world. The annual meeting is considered the premier conference for students, academics, scholars and professionals in the scholarly management and organization space.