Government & Politics
Anita B. McBride Joins Center for Congressional and Presidential Studies White House Veteran to lead Studies of First Ladies Roles in Policy and Diplomacy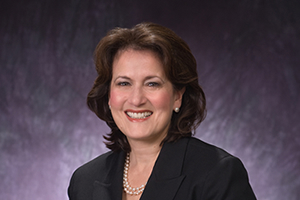 Anita B. McBride has been appointed as executive in residence at the Center for Congressional and Presidential Studies (CCPS) at American University's School of Public Affairs. She will teach, write, and lead programs on the role of first ladies in domestic policy and international diplomacy.

McBride has a distinguished career in American politics and government. From 2005 to 2009, she served as assistant to President George W. Bush and chief of staff to First Lady Laura Bush. She developed the first lady's global and domestic platform in support of presidential policies and initiatives, including global health, education, historic preservation, and human rights.

Her government service spans two decades and three administrations. She joined the Reagan Administration in 1984 and served as White House personnel director, from 1987 to 1992, under presidents Ronald Reagan and George H. W. Bush. From 2001 to 2004, McBride served President George W. Bush in White House management, at the State Department as senior advisor to the Secretary of State and White House liaison, and as senior advisor in the Bureau of International Organization Affairs. She was a United States delegate to the U.N. Commission on the Status of Women, the U.N. Commission on Human Rights, and the U.N. Special Session on HIV/AIDS.

In 2009, President Bush appointed McBride to the J. William Fulbright Foreign Scholarship Board, which she now chairs. She is a member of the United States–Afghan Women's Council, a historic public-private partnership that mobilizes resources to empower Afghan women and children. In 2010, she was appointed to the Presidential Advisory Council on HIV/AIDS. She also serves on the board of the National Italian American Foundation.

McBride received her BA in International Studies from the University of Connecticut in 1981. She studied international relations and foreign languages at American University in the Washington Semester Program and at the University of Florence in Italy.