Research
SPA Student Presents Arab Spring Research at National Conference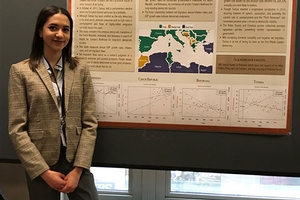 Bianca Pergher (SPA/BA '20) lived all over the world before enrolling at the AU School of Public Affairs (SPA). Her experience with diverse cultures, governments, and witnessing human rights violations in some of those places influenced her desire to study political science, international relations, and economics.

"It's always been a passion of mine since growing up and living abroad," said Pergher, whose family now lives in New Jersey.

Last fall, in her Research Methodologies course taught by SPA Professorial Lecturer James Quirk, Pergher examined Tunisia in the aftermath of the Arab Spring movement. She conducted a research analysis that looked at the likelihood of long-term democratic rule in Tunisia. Pergher presented her research recently during a poster session at the Midwest Political Science Association conference in Chicago. She was selected to participate as part of a competitive process by conference organizers for undergraduate research in international relations and comparative politics.

"It's terrific that students have so many resources at SPA and so many opportunities to present their work," said Quirk. "It's great Bianca is taking advantage of these opportunities."

After living in the Middle East and taking courses in democracy and conflict at the London School of Economics last summer, Pergher said she became interested in exploring Tunisia's transition. During her time at LSE studying foreign policy, she also researched various other Arab Springs in the Middle East. She became fascinated with Tunisia's success as the first democratic nation in the region. Her research compares Tunisia's net migration, GDP growth rates, and inflation rates with those of democratic predecessors, including Indonesia, former Czechoslovakia, and Botswana. She hopes these results will help project economic downturns, which could hurt the chances of sustaining a democracy in Tunisia.

"With past failures in Egypt, Libya, and Yemen, I wanted to measure and determine Tunisia's longstanding success as a democracy," said Pergher.
In March, Pergher met with officials from the Embassy of the Republic of Tunisia to share her research findings.

"It was a very welcoming experience," said Pergher. "I was happy and thankful to be able to sit and talk with the plenipotentiary minister." She is completing the second year of her three-year Politics, Policy, and Law Scholars program at SPA. After graduation, she plans to pursue a one-year Master's in Comparative Politics.

Since coming to Washington, D.C., Pergher has been active in the community and on campus. In spring 2017 she interned on Capitol Hill for Rep. Bill Pascrell (D-NJ). She has volunteered at Calvary Women's Services, a transitional home in Anacostia, and CARECEN, a nongovernmental organization helping Central American immigrants, and plans to intern with the International Rescue Committee this summer. At AU, she is a staff writer for The American Word Magazine and works as a teaching assistant for the Kreeger Department of Economics.

Pergher's long-term goal is to pursue a career in economic relations as a policy analyst.