On Campus
Add These SPA Book Club Recommendations to Your List SPA's 2019 Graduate Student Book Club Includes 12 Must-Reads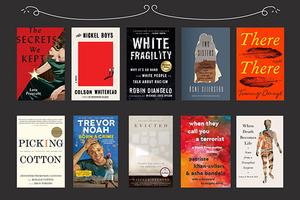 American University's School of Public Affairs (SPA) released its 2019-2020 list of new picks for its SPA Dean's Book Club, a reading club for graduate students led by SPA Dean Vicky Wilkins.
"The books I picked this year draw on a wide variety of backgrounds and experiences, much like the students of our school," said Wilkins. "With the book club, you don't always know where the conversation will lead, but each book is relevant to what is happening in the world today. I love the opportunity to get to know the students through books and fellowship."
Each year, Wilkins selects books for graduate students to read and discuss throughout the year. The club meets once and month and serves to expand on what is being taught in the classroom.
"It's a unique opportunity that you don't see many other places, especially with the dean hosting," said Rachel Marie Paquin (SPA/MPA '19). "It allows us to get to know our classmates and helps to show us how our degrees apply to what is happening around us and maybe show us how what we learn can impact society."
The 2019-2020 SPA Dean's Book Club includes:
The Secrets We Kept: A Novel
by Lara Prescott (SPA/BA '04)
This thrilling Cold War tale of secretaries turned spies is inspired by the true story of the CIA plot to infiltrate the hearts and minds of Soviet Russia, not with propaganda, but with the great cinematic love story Doctor Zhivago. And at the center of this unforgettable debut is the powerful belief that a piece of art can change the world.
When They Call You a Terrorist: A Black Lives Matter Memoir
by Patrisse Khan-Cullors and Asha Bandele
Patrisse Khan-Cullors became the face of the Black Lives Matter movement – only to find herself maligned by some as a terrorist. In this memoir, she raises the thesis that protest in the interest of the most vulnerable comes from love, not fear.
Born a Crime: Stories from a South African Childhood
by Trevor Noah
Trevor Noah's unlikely path from apartheid South Africa to the desk of The Daily Show began with what the South African government considered a criminal act: his birth. The compelling, inspiring, and comically sublime New York Times bestseller about one man's coming-of-age is set during the twilight of apartheid and the tumultuous days of freedom that followed.
Picking Cotton: Our Memoir of Injustice and Redemption
by Jennifer Thompson-Cannino
Raped at knifepoint by man who broke into her apartment while she slept, Jennifer Thompson-Canino misidentified her rapist. As a result, Ronald Cotton spent 11 years in prison before DNA evidence overturned his conviction and freed him. This New York Times best-selling true story examines their unlikely friendship while demonstrating the profound nature of human grace and the healing power of forgiveness.
There There
by Tommy Orange
Called one of the 10 best books of the year by The New York Times Book Review, this multigenerational story focuses on violence and recovery, memory and identity, and the beauty and despair woven into the history of a nation and its people. It tells the story of twelve characters, each of whom have private reasons for traveling to the Big Oakland Powwow.
Evicted: Poverty and Profit in the American City
by Matthew Desmond
In Evicted, Princeton sociologist and MacArthur "Genius" Matthew Desmond follows eight families in Milwaukee as they each struggle to keep a roof over their heads. The story transforms our understanding of poverty and economic exploitation while providing fresh ideas for solving one of twenty-first-century America's most devastating problems.
 
Two Sisters: A Father, His Daughters, and Their Journey into the Syrian Jihad
by Asne Seierstad
The riveting true story of two sisters' journey to the Islamic State and the father who tries to bring them home. The story traces the sisters' journey from secular, social democratic Norway to the front lines of the war in Syria and follows their father's harrowing attempt to find them.
Quiet: The Power of Introverts in a World That Can't Stop Talking
by Susan Cain
In Quiet, Susan Cain argues that we dramatically undervalue introverts and shows how much we lose in doing so. She charts the rise of the Extrovert Ideal throughout the twentieth century and explores how deeply it has come to permeate our culture. She also introduces us to successful introverts—from a witty, high-octane public speaker who recharges in solitude after his talks, to a record-breaking salesman who quietly taps into the power of questions.
White Fragility: Why It's So Hard for White People to Talk About Racism
by Robin DiAngelo
The New York Times best-selling book exploring the counterproductive reactions white people have when their assumptions about race are challenged, and how these reactions maintain racial inequality. These behaviors, in turn, function to reinstate white racial equilibrium and prevent any meaningful cross-racial dialogue. This book examines how white fragility develops, how it protects racial inequality, and what we can do to engage more constructively.
When Death Becomes Life: Notes from a Transplant Surgeon
by Joshua D. Mezrich
A gifted surgeon illuminates one of the most profound, awe-inspiring, and deeply affecting achievements of modern-day medicine—the movement of organs between bodies—in this exceptional work. This book engages in fascinating ethical and philosophical debates: What defines death, and what role did organ transplantation play in that definition? The human story behind the most exceptional medicine of our time, the story is a beautiful, poignant reminder that a life lost can also offer the hope of a new beginning.
Killers of the Flower Moon: The Osage Murders and the Birth of the FBI
by David Grann
This book revisits a shocking series of true crimes in which dozens of people were murdered in cold blood. But more than that, it is a searing indictment of the callousness and prejudice toward American Indians that allowed the murderers to operate with impunity for so long. As the death toll climbed to more than 24, the FBI took up the case and together with the Osage, expose one of the most chilling conspiracies in American history.  
The Nickel Boys: A Novel
by Colson Whitehead
Based on the real story of a hellish reform school in Jim Crow-era Florida that operated for 111 years and warped the lives of thousands of children, The Nickel Boys is a devastating, driven narrative that showcases a great American novelist writing at the height of his powers. In this bravura follow-up to the Pulitzer Prize, and National Book Award-winning #1 New York Times bestseller The Underground Railroad, Colson Whitehead brilliantly dramatizes another strand of American history.
If you're a graduate student and would like more information about joining the SPA Dean's Book Club, please email SPAdean@american.edu.