Research
SPA Professor to Study How Climate Change Finance Works in Developing Countries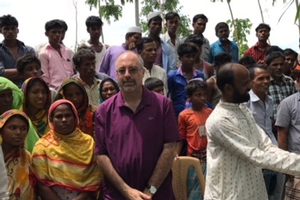 American University School of Public Affairs (SPA) Professor Todd Eisenstadt has spent years understanding how climate change affects indigenous populations in developing countries. His time spent abroad will inform what he discovers as he tracks funding for climate change projects as funding flows from international donors to local development projects. His interest in countries ranging from Ecuador to Bangladesh will have him shining a light on what is and is not working.

This research is timely - a new era of project implementation is underway after a decade of pledges and the establishment of implementation structures by the United Nations Framework on Climate Change Convention.
"This is a burgeoning area of study because a lot of money is being collected," said Eisenstadt. "It is important for the public, policy analysts, scientists, and policy makers to understand whether and how these funds are being channeled so they get where they need to go."

Eisenstadt will be on sabbatical from the SPA starting in the fall of 2018 for an International Affairs Fellowship for Tenured International Relations Scholars, sponsored by the Carnegie Corporation of New York and the Council on Foreign Relations. He will focus on climate change finance, which involves understanding and assisting in the process of setting criteria for the funding of loans and projects to governments working to mitigate and adapt to climate change.

Eisenstadt said the fellowship is an extension of two of his ongoing research projects, including work in Ecuador where he and co-author Karleen West (SUNY Geneseo) conducted a national survey with indigenous communities in the Amazon region. They learned that people's attitudes toward the environment are driven more by how vulnerable they feel to environmental change than by any ideological predispositions, as earlier literature had presumed. Their findings, published in numerous academic journals, will be shared next year in a book titled "Who Speaks for Nature? Indigenous Rights Movements, Public Opinion, and the Petro-State in Ecuador."

Another project in Ecuador included a survey conducted with Ecuadorian partners to study rural indigenous communities to understand how they experience climate vulnerability, especially in areas of heavy oil extraction. Eisenstadt collaborated with Emmy-winning environmental filmmaker Larry Engel of AU's School of Communication to produce a video explaining the environmental concerns of people in the Amazon.
With a grant from AU to conduct research in Bangladesh with Tawfique Haque of North-South University in Dhaka, Eisenstadt continues his work with fellow SPA Associate Professors Jie Lu and Matthew Wright to survey people in vulnerable nations about their awareness of climate change. They have submitted a proposal to the National Science Foundation for further work on this project.

"We hope to understand the flow of finance from the international level to the most local of levels in a few vulnerable countries like Bangladesh, where projects are most needed," said Eisenstadt.