Research
Undergraduates Present Research Findings During the 8th Annual Symposium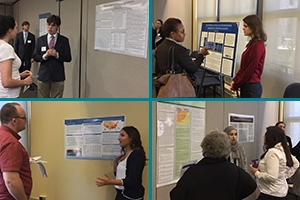 The School of Public Affairs' Annual Undergraduate Research Symposium, held April 2016, provided an opportunity for undergraduates to present their original research to an audience comprised of the faculty, staff, and students at American University.
"The Symposium showcases SPA's undergraduate creativity, achievement, research, and community-based research from all areas of study," said Jessica Waters, Associate Dean of Undergraduate Education, "I was so impressed by the work presented this year."
The forum included poster and presentation sessions by students from varying academic disciplines across the university. This year 39 undergraduates, from freshman to senior, shared their research. Some of the topics included, the effect of minimum wage on unemployment; attitudes about the anti-vaccination movement; LGBT homeless youth; internet behavior; and safe spaces for speaking about abortion.
"I was pleased to see that students did not shy away from complex social issues," said Waters. "The hard work and passion the students brought to their research was inspiring to see."
Students also focused on education policy, campus policing, genetically modified food, issues faced by public defenders, sexual assault in the armed forces, and concerns about college student mental health.

The posters and presentations were judged by 18 SPA faculty. The complete list of winning presentations and posters can be found on the Symposium webpage.