Research
Examining Attitudes of Young Men about Sexual Assault as they Enter College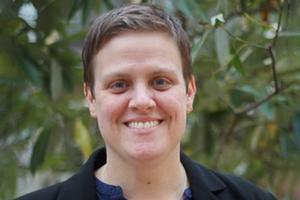 While much of the research around violence against women has focused on victims, SPA Professorial Lecturer Jane Palmer has explored the factors associated with the likelihood of committing sexual assault.
In an anonymous, self-reported 2010 survey of 1,619 incoming male college students at a large public university in the Northeast, Palmer's study revealed that almost one in five respondents expressed some likelihood of committing sexual assault if guaranteed there would be no consequences for their behavior. White students and those who intended to join a fraternity were more apt to indicate they might violate women. The likelihood that this group would commit a violent act decreased, however, if they indicated that their friends were the type to intervene to help in risky situations.
The resulting article, "Correlates of Incoming Male College Students' Proclivity to Perpetrate Sexual Assault," by Palmer and coauthors Sarah McMahon, of Rutgers University, and Erica Fissel, of the University of Central Florida, was published in February in the journal Violence Against Women.
The survey used a rating scale of 1 to 5 (with 1 being "not at all likely" and 5 being "extremely likely"); researchers counted any response other than a 1as indicating some "proclivity" to commit assault. Between 20 and 26 percent of students responded with a 2 or higher, depending on whether the scenario involved alcohol.
These survey results are ten years old; Palmer is hopeful that attitudes may have changed in the wake of the "It's On Us" campus education campaign and the "Me Too" movement.
"We were surprised to find it was more than a few percent," says Palmer says of the results. "You'd think there would be a social desirability issue around not admitting to having any proclivity––but it was an anonymous survey so maybe they were more likely to be honest."
Palmer says one of the most interesting findings, as yet under-documented in the literature, is that men who thought their friends would intervene in risky situations were less likely to say they might perpetrate. Also, with the research pointing to potentially more aggression by men interested in fraternities, Palmer says there is evidence to support the need for targeted intervention and education programs through Greek life organizations.
The sample for this study was large and from a relatively diverse university, which Palmer says may mean the results are generalizable to universities with similar populations of students. It will also be important for other colleges and universities to ask a similar question on their campus climate surveys, to see if the findings are replicated in the "MeToo" era.
 
Data on the likelihood to perpetrate sexual assault continues to emerge. Recent studies find that close to one-third of men self-report perpetration of sexual coercion or assault. Therefore, Palmer's work and others' support the importance of sexual assault prevention education programs not only for incoming college students, but also for those in high school and middle school.