Environment
Book Focused on Environmental Policy and Sustainability Receives International Political Science Prize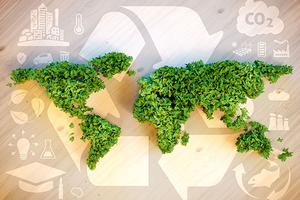 AU School of Public Affairs' Distinguished Executive-in-Residence Daniel Fiorino's book, "A Good Life on a Finite Earth: The Political Economy of Green Growth," has been awarded the Charles Levine Prize of the International Political Science Association.
The prize recognizes the best book on comparative administration or public policy published in the previous year. It was selected by a panel of three judges: Professor Linda White at the University of Toronto, Professor Kutsal Yesilkagit at Leiden University, and Professor Robert Cox at University of South Carolina.
"I try to be very pragmatic. You can't just say economies are going to stop growing if steps are taken to protect the environment," said Fiorino of the book. "You have to figure out how you change growth and how you make that a positive political issue."
A Good Life on a Finite Earth (Oxford University Press, 2017), is an academic book, but has a broader appeal as it explores the need to protect the environment for the economy to flourish in the long-term.
"The book develops a coherent argument for how green growth is possible, and why it is a necessary priority for governments in the 21st Century," states the award citation. "It is both a passionate plea for societies to place more attention on green growth concerns and a practical handbook of best practices that can be emulated by other countries."
Fiorino argues that smart environmental policies can generate areas of investment, new job opportunities in renewable energy, improve health and protect resources necessary for a vibrant economy. The book has been cited in other scholarly works and sparked conversation about the importance of approaching environmental and economic issues in the context of political power. Fiorino has used the book in his graduate class on environmental sustainability and spoken about some of its themes at conferences presentations including one to the Midwest Political Science Association.
In 2007, Fiorino's book, "The New Environmental Regulation" received the Best Book in Public Administration Award from the National Academy of Public Administration.