On Campus
Israel and the West in a Changing Middle East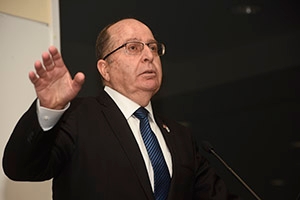 On March 6, just two days after announcing his intention to run for Prime Minister of Israel, Moshe "Bogie" Ya'alon delivered a guest lecture at American University, painting an optimistic, yet realistic picture of the future for the Middle East.
There is no "instant solution" to tension in the region, but States must work in their own interests to manage it, he said.
Ya'alon delivered the Amos Perlmutter Lecture, an annual event named for the AU School of Public Affairs professor of 30 years who also served as a longtime political advisor to the Israeli government. The event was hosted by SPA and the Center for Israel Studies.
After a career of military leadership, Ya'alon became a politician in 2009 and served as Israeli Minister of Strategic Affairs and Minister of Defense. In his resignation, last year, he voiced concern about the future of Israeli society and warned that extreme elements had taken over the country and the Likud party. On March 4, he announced he was running for prime minister.
Aaron David Miller, distinguished scholar at the Woodrow Wilson International Center for Scholars, moderated Ya'alon's lecture and spoke about the need to find a balance between hope and when facing the challenges of Middle East.
"If you want to change the world, you first have to understand it," said Miller. "That means looking the world the way it is, not just the way you want it to be."
Miller asked Ya'alon that if he had five minutes with the U.S. President, what would he say to him about Israel. "I'd start by talking with him about the mistakes that have been done," said Ya'alon. "I'd tell him there is no clear solution. You are not going to solve the problem thisterm, even you serve for eight years. You have to make decisions about your country's interests and to manage the situation."
The first, second, and third challenge is Iran, said Ya'alon, followed then by ISIS. He said stopping Iran's nuclear program should be a priority, the Iran nuclear deal should be kept, but the country should be accountable for violations.
The next generation needs not only to defend Israel, but to develop it.
"It's not just about military might," he said. "Efforts should continue to focus on sophisticated agriculture in the desert and using technology to provide drinking water to the region. Knowledge is the inspiration for the future. This secret should be cultivated by education. Hopefully, we will have better leadership everywhere."
Kat Parsons, SPA/PHD '20, is studying criminology and came to the lecture not knowing what to expect.
"I thought it was a really good speech," said Parsons. "He raised points that hadn't occurred to me and also reiterated some that I feel very strongly about myself, especially regarding artificial states. Ya'alon had to tread lightly to an extent talking about the Trump administration."