Government & Politics
Former EPA Director Gina McCarthy Visits the School of Public Affairs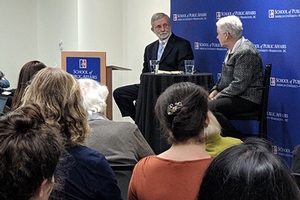 Effective environment policies require collaboration, commitment, and transparency. That's what Gina McCarthy, former director of the U.S. Environmental Policy Agency, recently told students, faculty, and community members gathered at AU School of Public Affairs.
McCarthy described how leading the EPA was "best job in the world," yet difficult and nearly impossible, if not for the dedication of the career staff dedicated to the agency's agenda and moving the country forward.
At the helm from 2013 until early 2017, McCarthy gave a behind-the-scenes look at the process of working with private industry, states, and a Republican-controlled Congress to make progress on issues, such as clean air. The Clean Power Plan, announced in 2015 under the Clean Air Act, was the "epitome of cooperative federalism," said McCarthy, setting flexible standards that gave states the chance to design their own path toward cleaner energy sources.
"I am all about outreach, talking to people, and getting the temperature of what people are looking for, concerns…We absolutely listened," McCarthy said about soliciting feedback on the plan, which yielded more than 4.3 million public comments. In making decisions at the EPA, McCarthy said she invited everyone to the table to share their ideas. "It was a cast of brilliant, mission-driven, dedicated individuals," she said.
The resulting plan to reduce carbon pollution from U.S. power plants was "one of the most creative" achievements of the Obama administration, bringing various stakeholders together to set targets for coal reduction, said Dan Fiorino, director of SPA's Center for Environmental Policy AU.
Although there is talk of modifying the Clean Power Plan, rules that took nearly a decade to craft will not be easily undone, said McCarthy.
McCarthy expressed concern over the Trump administration's move away from scientific expertise and mixed signals about policy that leads to business uncertainty. 
"You just can't mess with science. What is happening today is unconscionable," said McCarthy. "Everybody knows science needs to be independent of politics." 
The EPA needs to rely on independent research and scientific experts to develop policy.
"This administration fails to understand the difference between politics and policy. They seem to only have politics without policy," said McCarthy. "They are doing absolutely nothing for betterment of public health and environmental protection."
Although there is concern over President Trump's intention to pull the U.S. out of the Paris climate accord, McCarthy said businesses, local governments and the international community are innovating and expanding the use of renewable energy sources. "The market is changing, it is not going back," she said. The EPA has been the "gold standard" for environmental policy and McCarthy said she believes the recent setbacks will be short lived.
McCarthy lauded Obama's team approach to combating climate change, enlisting not only the EPA but also other cabinet secretaries to underscore the urgency to reduce pollution for economic and national security reasons.
SPA Interim Dean Vicky Wilkins noted that McCarthy was the fifth EPA administrator to be on the AU campus in recent years, along with William Reilly, Carol Browner, Lisa Jackson, and Christine Todd Whitman.
"One of my biggest concerns going forward is protecting the transparency of the institution and the process," said Maverick Ryan (SPA '18) after hearing McCarthy speak. "To hear the confidence that she has, despite what's going on, was big. It was really reassuring." 
David Peters (CLEG '19) said, "It's always really impressive to hear from someone who held such a high-level position with the EPA – the difficulties she's faced but also how she worked together with the utilities to move forward on the Clean Power Plan. It was really a great learning opportunity for undergraduate and graduate students."