Achievements
Relationships Drive Fulbright Winner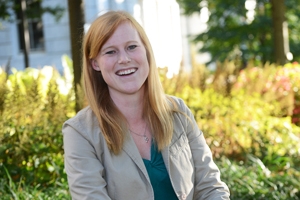 As Sarah McKibben heads to Wellington, New Zealand, in January on a Fulbright grant to map learning networks among rural principals, her debt to her own network at AU is not lost on the recent alumna.
"I've gone further than I thought possible because professors and others in my support system here invested so much in me and pushed me so hard," said McKibben, SPA/MPA '13.
While McKibben only began pursuing her passion for education reform once she was at American, the Alabama native has long been fascinated with networks.
"Increasingly, research is validating the value of social capital like relationships," said McKibben. "I want to better understand how we can use those networks to fix real problems, particularly in education, which is really an endeavor of sharing and trust." 
Using Relationships at Aspen Institute

Collaboration in education ended up becoming the focus of McKibben's internship at the Aspen Institute Education and Society Program, where she worked with the organization's Senior Congressional Education Staff Network and Urban Leadership Networks as a complement to her studies at SPA.

Despite the availability of various online platforms to facilitate real-time sharing, McKibben believes we still have the tendency to operate in silos, "when sometimes we could stop spinning our wheels and move forward if we just talked to other people facing similar issues in their work."
As an undergraduate at Vanderbilt University, McKibben did a six-month study abroad program in Christchurch, New Zealand – an eye-opener and a turning point in her own education. "Collaboration and trust is really baked into New Zealand's culture, which took me by surprise. That mentality really contrasted with the American individualism I was accustomed to," she said.
Weaving Teaching and Learning

The language of New Zealand itself mirrors that interdependence, the student discovered. "My favorite example is Ako, which means teaching and learning, both embedded in an inextricable relationship where teacher learns from student and teacher in turn works to be informed and reflective in practice," wrote McKibben in her Fulbright statement. "Ako is deeply grounded in the principle of reciprocity and also implies that the learner cannot be separated from her community roots."
McKibben found a sense of Ako in the learning community at AU. For example, she was drawn to Professor Karen Baehler through a shared interest in environmental issues, which was McKibben's focus in her first job out of college. Later, they discovered their shared love for New Zealand, as Baehler had taught at the Victoria University of Wellington, which is sponsoring McKibben's Fulbright. "Professor Baehler has been such a willing resource for helping me find contacts in Wellington," said McKibben, "But she was also so helpful in thinking through the bigger picture of my project, including thinking big about systems and how everything interconnects."
SPA Assistant Professor Seth Gershenson also played an important role in developing McKibben's proposal. "I dropped in on his office hours, and he immediately offered me a chance to do research with him," said McKibben. "He was such an important influence in my project design. I could count on him to press me to really think through the methodology, and push me on my writing and research process."
David Pitts, department chair for Public Administration and Policy, was another of McKibben's "champions," she said. "Even before I applied for grant, he asked the tough questions and pushed me to elevate my game."
Finally, McKibben credits Chris Swanson in the Office of Merit Awards as being "instrumental" in capturing the Fulbright award. "He took a tough, honest look at my proposal," said McKibben, "helping get through twelve drafts of my proposal and otherwise guiding me through the process."
About the Project

As part of her Fulbright project, McKibben will convene a roundtable of principals, policymakers, and other decision-makers in Wellington to talk about the implications of her research. 
"I want to open up a larger conversation about how we can to support school leaders and by proxy their students," said McKibben. "Principals are the key linchpin to education reform. If you don't figure out how to get the resources they need, so many schools are going to fall flat."