On Campus
New Class Shows Potential Paths for Political Theory Majors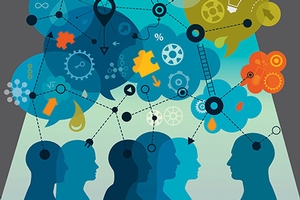 Students often say that they enjoy having deep discussions about ideas in political theory classes, but they are concerned it's an impractical major with limited job prospects.
A new one-credit class at American University this spring, "What to Do with Your Political Theory Degree," introduces students to a variety of career paths through professionals who studied political theory and now work in journalism, education, at nonprofits, at think tanks, and in other settings. Government 296 (March 24 and April 7) is open to undergraduate and graduate students. There are no prerequisites. Guest speakers will talk about their work experiences, offer job advice, and answer questions.
"It will be less academic and more related to career-building," says Thomas Merrill, associate professor in the Department of Government, who designed the course. "It has networking potential," he adds. "Students will be meeting people who might be hiring."
Unlike more technical fields, liberal arts majors — and their parents — may wonder how their degree will translate into the workplace. Merrill notes that employers value job applicants who can analyze, critique, and communicate ideas-all skills that those who major in political theory develop, along with an ethos of being open to other perspectives and approaches. Liberal arts graduates also have the necessary transferable skills to adapt to a changing workplace. Graduates may have several jobs throughout their careers, and a liberal arts education is preparation for work in a variety of sectors.
Merrill is trying to debunk the myth that studying great thinkers and discussing big moral questions of the day is somehow irrelevant.
"I hope this class reinforces to students that political theory is important. It is not foolish," says Merrill. "It's also a chance to see how jobs can fit into your larger sense of purpose or mission in life."
The instructor for the class will be American University Adjunct Professor Juliana Pilon, a political theorist and author. Interested students should speak with their advisors or contact Merrill at merrill@american.edu.