On Campus
Public Servants Gather for Second Edition of Classes Without Quizzes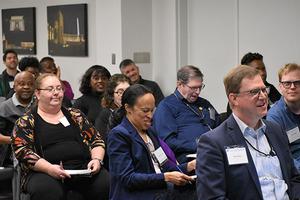 More than 200 federal employees converged on Kerwin Hall on Friday, January 10th for the lively second installment of "Classes Without Quizzes." This unique, and free, SPA initiative began in January 2019, during the longest government shutdown in U.S. history.
This time, no enforced furlough was necessary. SPA leadership and faculty members offered an intriguing array of skill-building and management training sessions without charge – or a final exam. Classes ranged from "Kindness in Leadership," to "Emotional Intelligence," "Giving and Receiving Feedback," and "Managing Conflict in the Workplace."
"This is part of SPA's DNA," said Dean Vicky Wilkins. "It is about our long-term commitment to public service and our desire to show our gratitude and recognize the contributions of federal employees. We are offering 11 free workshops for feds to get new skills with us – and an opportunity for them to build a community across their various agencies."
"We'd like to make it annual," Dean Wilkins said.
Betsy Fischer Martin, Executive Director of the Women & Politics Institute, led a session entitled "Networking for Women," encouraging attendees to be cognizant of how they treat co-workers, to "help colleagues shine," and to work toward building up goodwill.
"Most importantly, be a person of integrity and truth," said Fischer Martin. "Think about what you want said about you. What is your personal brand, externally and internally?"
"Last year, I was bored to tears [during the government shutdown]. I missed people and I missed my job," said Kathleen Reidy, a project manager at the Department of Homeland Security and former East Africa Peace Corps volunteer who attended the "Networking for Women" session. "This year, I came for affirmation that what I am doing is correct. Speaking directly and confidently is sometimes very off-putting to the people I work with, especially being a female in a male-dominated workplace. The lesson is to speak your mind. Don't blink. Don't back down."
Robert Cole, a 20-year veteran of the Customs and Border Protection Agency, took a vacation day to attend "Kindness in Leadership," presented by Professor Patrick Malone, Executive-in-Residence in the Department of Public Administration and Policy and director of the university's Key Leadership Program.  
Kindness, Mr. Cole said, is not an attribute commonly associated with the CBP. "When people come through the airport," he said, "it's 'do this. Do that.'"
"Last year, it was a productive day," Mr. Cole said. "Today, I am here to broaden my horizons and pick up a credit toward certification as a Project Management Professional. It is good to come to an event like this with an 'I'll meet anybody' attitude."
 
Dean Wilkins conducted a session called "Managing for Your Type." This course, she explained, centered on "your characteristics as a leader, and how you might flex those skills when dealing with people who are different."
"Last year," she continued, "people told us that they liked the opportunity to be with fellow feds from other agencies, and to bring the skills they learned back to their own agency."
The sessions have been so successful, Dean Wilkins said, that she would like to push the concept even further.
"I told our incoming class of graduate students that we would like to offer that version in all of our classes," she said. "But unfortunately, we can't offer the 'without quizzes' part to them."
Videos
Introduction to U.S. Cyber Policy with Sasha Cohen O'Connell
Understanding the Federal Budget with Carla Flink