Government & Politics
How Can We Counter Violent Right-Wing Extremism in the US?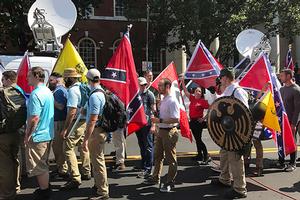 SPA Adjunct Professorial Lecturer Trace Lasley recently convened a workshop with students and subject-matter experts to explore ways to address the rise in violent right-wing extremism in the United States.
"This is a tragedy and the threat is growing," said Lasley, outlining the recent increase in the number of violent groups, attacks, and victims.
Much of the nation's time and attention has been directed to prevent attacks from abroad, while white nationalism expanded domestically, and the country's homeland security enterprise is not yet doing enough to stop it, Lasley explained during the workshop.
"We watch our officials dodge, deflect, and squirm because the threat of terrorism no longer has a foreign-sounding name or involves an easily 'othered' group," said Lasley.
He explained how there is no statute against domestic terrorism, and it is legal to hold radical beliefs, visit radical websites, and attend radical meetings. The tipping point of when it turns violent, when legal behavior turns illegal is difficult to predict.
"This stuff is not easy, but your being here is sending a strong signal that there are some of us that do care, that are unwilling to ignore this threat and want to do our part," Lasley told the 31 workshop participants gathered for the all-day event.
Kelly Mason, MS/SPA '18, who works at Leadership Connect in Washington, D.C., raised a question about the effectiveness of identifying people who participate in extremist rallies, such as those held in Charlottesville, who then are fired from their jobs.
While some argue the public shaming could radicalize extremists further, Robert Evans, an independent investigative journalist and panelist, said many openly advocate for their beliefs, and it can be effective to take away their platform to raise money and recruit others.
The event was a chance to hear about how different potential policies and strategies can look from conceptualization to implementation, said Mason. "As someone who wants to go into this field, it motivates me even more to thoroughly understand this problem so I can be part of the solution," she said.
The group talked about the challenge of local, state, and federal officials sharing information and working together to combat domestic terrorism.
Trev Hadachek, MA/SPA '19, questioned how to reach rural areas where extremists live when federal law enforcement can be seen as "outsiders" coming into close-knit communities. "Building trust throughout the communities will play a large role in the future," said Hadachek.
Grants can be given to local partners to carry out the work, and the government can have a "light footprint," suggested Susan Szmania, an expert in countering violent extremism and terrorism prevention.
The educational gathering was held to draw on research, test ideas, and develop a strategy. Although primarily an academic exercise, four students (Morgan Harris, BA/SPA '18; Rachel Fugardi, BA/SPA '18, Meg Talley MA/SPA '19, and Jackie Ducharme MA/SPA '20) were chosen to present the team's recommendations to the Anti-Defamation League a week after the workshop.