Achievements
Sasha Cohen O'Connell, Former Senior Executive Service FBI Official, to Join the AU School of Public Affairs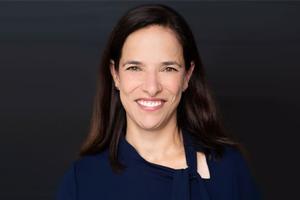 Sasha Cohen O'Connell (SPA/MPA'98/PhD'12), formerly the chief policy advisor, science and technology at the Federal Bureau of Investigation (FBI), will join the School of Public Affairs (SPA) in August 2019 as an executive-in-residence and director of the master's program in Terrorism and Homeland Security Policy. A graduate of SPA's Public Administration Ph.D. program, O'Connell served as an adjunct professor in the Public Administration program for the past three years.
"It is a privilege to be joining SPA to prepare the next generation for careers in public service," said O'Connell. "The dedication to academic excellence and commitment to the study and practice of practical real-world skills needed for public service I have found here is impressive and prepares students to serve in leadership roles. I am honored to play a role in advancing that legacy."
In the fall, O'Connell will teach "Intro to Cybersecurity Policy" at the undergraduate level and "U.S. Cyber Security Policy" for graduate students. These classes will provide a comprehensive examination of U.S. cyber policy and a historical overview of related legislative and regulatory efforts and their impact on security, privacy, and the advancement of technology. The classes will also include discussions of contemporary cyber topics such as cyber-attacks, network intrusions, disinformation, and questions of lawful access to digital information for law enforcement agencies.
"Sasha brings 20 years of national security leadership and expertise to our terrorism and homeland security program," said SPA Dean Vicky Wilkins. "Her background allows us to blend academia with lessons from the front lines that are meaningful for both our students and the practitioners we bring to campus. Through these conversations, we hope to enrich the student experience and influence policymakers' perspectives."  
O'Connell will impart to students the lessons learned from her career in government service through an innovative approach to teaching that includes collaborating with experts in the field. Notably, in 2017, she hosted a visit to her class from former FBI Director James Comey.
O'Connell is also leading a new collaboration between SPA and Guidehouse (formerly PwC-Public Sector) that convenes discussions for national security experts on a wide variety of topics ranging from measuring success in operational programs to recruiting diverse candidates in federal law enforcement. As part of this partnership, she hosts "Mission is Possible," a podcast that draws attention to national security public management needs and best practices. O'Connell joined Guidehouse in 2017 as a director in its national security sector and will continue to serve as a consultant on strategy, communications, and policy issues impacting national security.
O'Connell is a founding member of the board of the #NatSecGirlSquad, a non-partisan, non-political, professional development community committed to fostering competent diversity in national security and defense. She lives in Maryland with her husband, daughter, dog, and cat.