Alumni
AU School of Public Affairs Alumni Pursue and Win Public Office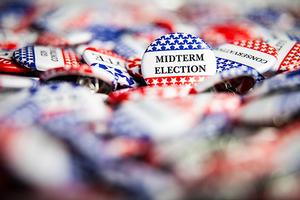 The 2018 midterm elections included a number of hotly contested races and a voter turnout that appears to have surpassed that of previous midterms.
"WPI was founded nearly 20 years ago to study women in politics and provide training to young women entering the political arena," said Betsy Fischer Martin, executive director of SPA's Women & Politics Institute. "We were thrilled to see so many women prevail in yesterday's election, including women in our 'WeLead' campaign training program and alumna of AU School of Public Affairs. We are hopeful the momentum we have seen this year will lead to continued success for women in politics."
From state legislatures to the U.S. Congress, graduates from AU School of Public Affairs (SPA) were on the ballot vying for public office this election. The mix of incumbents and first-time challengers were motivated to serve for a variety of reasons, some drawing inspiration from their time in Washington, D.C., and on campus at AU. In the end, most were elected.
Susan Wild, SPA/BA '78
Wild won her race for Pennsylvania's 7th Congressional District. It was a first for her. She says she ran to be a consensus builder and to work to restore government's role as a force for good. At AU, Wild studied political science and says she learned about how government is supposed to work.
"In a democracy, government should be a tool through which opportunity is generated, and help is made available to those who need it," said Wild, an attorney and first female solicitor of the City of Allentown. "That happens when elected representatives of goodwill and good nature come together to hash out compromises and put the best interests of their constituents above partisanship. Sadly, right now, Washington is failing at this."
Wild said she put herself through college with the help of federal student loans and wants to ensure government works for young people and all Americans. Her campaign welcomed a bus full of AU alumni in early October who came to Pennsylvania to canvas and help get out the vote.
"The young people who have become politically engaged over the past few years and are working hard this election year bring something new and exciting to our politics — something that gives me a lot of hope for the future of our country," Wild said.
Haley Stevens, SPA/BA '05 and CAS/MA '07
Stevens defeated Republican Lena Epstein to win a seat representing Michigan's 11th Congressional District. Stevens's victory indicated a shift back in favor of Democrats after 2016, when Donald Trump won the 11th Congressional District by a wider margin of four points. A Democrat hadn't been elected to a two-year term from the district since the late 1960s.
Jim McGovern, CAS/BA '81 and SPA/MPA '84
McGovern was re-elected for his 12th term in Congress, defeating Republican challenger Tracy Lovvorn in Massachusetts' 2nd Congressional District. In a brief interview, McGovern credited his victory to his message of civility and decency.
"I've seen Washington work," said McGovern. "I've seen Congress work, and be civil and be bipartisan and get things done. I want to return to that."
The win could elevate McGovern, a Worcester native, to a position of legislative power on Capitol Hill. McGovern is currently the top minority member of the House Rules Committee, which determines which bills come to the floor for votes.
Donald McEachin, SPA/BA '82 and SPA/MPA '84
McEachin was re-elected for his second term in Congress, serving Virginia's 4th Congressional District. After a career in state politics, McEachin won the seat in 2016 and was the first Democrat to do so since 2000.
During a speech last night, McEachin said, "We've got to govern responsibly. We've got to govern wisely. We've got to make America proud the next two years."
Mayor Muriel Bowser, SPA/MPP '00
Bowser, who first won the race for mayor of Washington, D.C., in 2014, was re-elected in 2018 with 79 percent of the votes. She is the city's first chief executive to win reelection since Anthony Williams. Bowser has presided over a period of relative prosperity and demographic shifts due to rapid gentrification.
"Let's think about the great city of Washington, D.C., and all the things we can do in the next four years," Bowser said in a speech on Tuesday.
Morgan Zegers, SPA/BA '18
Zegers was unsuccessful in her run for New York State Assembly in the 113th District. The Republican Party endorsed the 21-year-old, saying high taxes and an inhospitable environment for small business were driving people out of New York.
"I wanted to help out, and, to me, I saw the problem at the state level," Zegers said. "In the end, rather than in 10 years or the future, everybody thought it would be a great idea to have me step up this election cycle because of the energy I could bring."
Zegers declared her candidacy in February of 2017 while still an AU student majoring in communications, law, economics, and government (CLEG). Being at SPA exposed Zegers to opportunities that she says propelled her to run.
"The location of American really helped the most," says Zegers, who interned on Capitol Hill with her local representative and joined the DC Young Republicans. "I hadn't been involved in politics before, and being in Washington opened my eyes to government."
Other alumni who were elected or re-elected yesterday include the following:
Steven Archambault, SPA/BA '90: Rhode Island State Senate
Michelle Gomez, SPA/BA '93 and SPA/MA '94 Mayor, Tamarac, Florida
Michael Grieco, SPA/BA '97: Florida House District 113
Robert Kauffman, SPA/BA '96: Pennsylvania House of Representatives
Phil Mendelson, SPA/BA '81: Washington, D.C., City Council Chair
Brianne K Nadeau, SPA/MPP '94: Ward 1 Representative, Washington, D.C.
Lauren Underwood, WPI's WeLead Alumna: U.S. Representative, Illinois
Helene Weinstein, SPA/BA '73 New York General Assembly