Education
SPA Professor Publishes Book on Importance of Teacher Diversity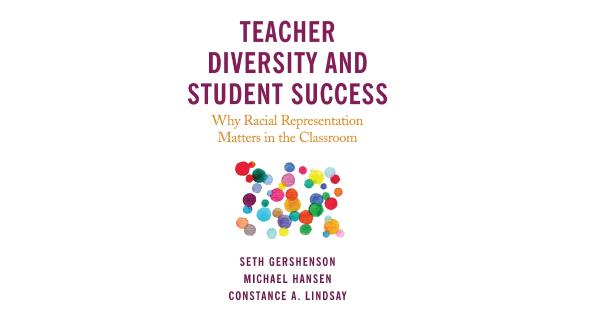 A broad base of research has proven that when teachers, administrators, and other school personnel reflect the demographic makeup of the student body, learning and other performance outcomes improve. To address this underrepresentation, SPA Associate Professor Seth Gershenson has published Teacher Diversity and Student Success, which argues that a diverse teaching force is a vital element of teacher quality and provides policy and practical solutions for making this a reality. The book is co-authored with Mike Hansen, director of the Brown Center for Education at Brookings Institute, and Constance Lindsay, an assistant professor of education policy at UNC-Chapel Hill.
"At every level of schooling, whether you're looking at preschool, elementary school, high school, college, or even law school, studies show that having a same-race teacher really matters, and has a causal effect on the student outcomes that we care about," said Gershenson.
These outcomes include higher test scores, higher grades, fewer absences, and fewer suspensions. Most impactfully, he added, evidence from Texas, North Carolina, and Tennessee shows that Black and Hispanic students with a same-race elementary school teacher are more likely to graduate high school and enroll in college.
Gershenson and his coauthors address the 300-year history of the American educational system, clouded by exclusion, segregation, and underrepresentation, from Native American boarding schools, to Asian and Hispanic students in California, to Brown v. Board of Education. Even today, when the national student body is more than 50% non-white, 80% of teachers are White.
"A lot of Southern states responded [to federally-mandated integration] by disbanding the formerly all-Black segregated schools," said Gershenson. "Black teachers who lost their jobs when those schools closed were never rehired."
The book adopts the metaphor of a "leaky pipeline," in which potential Black and Hispanic teachers drop from candidacy at every stage, starting at who goes to college, who majors in education, who passes the certification exams, who gets a job in schools, to who remains in the profession. It traces this dysfunctional pipeline to culture, institutional structures, and policy choices, one of the most suspect of which is the certification process.
"Certification tests were initially used in the post- Brown v. Board era by many Southern states as a way to exclude Blacks from teaching," Gershenson explained. "The designer of one of these certification tests [noticed] a Black-White gap in performance, and literally marketed it to state and local policymakers as a seemingly legal and merit-based way to exclude Blacks from the teaching force."
The book lays out three recommendations for addressing this lack of diversity, and emphasizes that they should be three parts of a single, complementary strategy.
"The first and obvious thing is to recruit and maintain a more diverse, more representative teaching force," he said. "The second thing to do is to make more effective use of the teachers of color that we already have. And then, finally, we can do better preparing white teachers and all teachers to teach in increasingly diverse classrooms and schools."
To increase diversity, the authors recommend grow-your-own and teacher residency programs, in which school districts partner with local colleges to recruit students to the education field. They also encourage states and districts to recalibrate the certification process.
"Those scores don't predict effective teaching, it turns out," said Gershenson. "In fact, sometimes there's evidence that Black probationary teachers who haven't even taken the test yet perform better in the classroom than white teachers who just barely passed the test."
Gershenson warns against poaching teachers of color from neighboring districts, which rearranges existing teachers of color instead of increasing their overall numbers. He also encourages districts to maximize the number of students of color that have at least one same-race teacher, and to get creative about introducing a diverse array of non-educators to the school community, in the form of guest speakers.
"Given that we know that even a small exposure can matter, we can find non-classroom ways to expose kids to role models and people who look like them," through guest lecturers or presentations, summer schools or after school programs. These options could be enacted immediately, while the steps necessary to recruit and train a more diverse teaching force could take years, or even decades.
Finally, Gershenson suggests that current teachers could receive more and/or better training in best practices for teaching in diverse classrooms, including empathic discipline training, implicit bias training, and maintaining high expectations for all students.
Gershenson's current and upcoming research branches out from this main theme of teacher diversity. He is working to identify effective grow your own and teacher residency programs in the state of Maryland, and also examining how teachers learn from peers of different races and ethnicities.
 
"Teacher diversity is teacher quality," he said. "And getting policymakers and school leaders to buy into that and believe that basic idea, I think, is key to making all of this happen."
Teacher Diversity and Student Success, published by Harvard Education Press, is available for order; customers can receive a 20% discount using the code 'TDSS21.'