Government & Politics
President Trump's Relationship with Congress in the First Year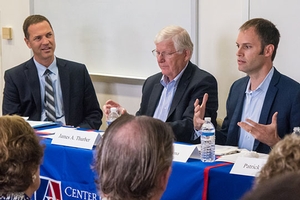 Just how is President Donald Trump getting along with Congress during his first year in office? This was the focus of a recent panel discussion moderated by SPA Professor David Barker, the new director of the SPA Center for Congressional and Presidential Studies.
"It's not clear what [Trump] wants and that makes it difficult for leadership on the Hill to work with him," said AU Distinguished Professor of Government and CCPS's Founding Director, James Thurber.
The impact of the worsening gridlock after last year's election is covered in Thurber's new book, "Rivals for Power: Presidential-Congressional Relations," released this summer in its 6th edition by Rowman & Littlefield Publishers.
"The way you are elected fundamentally influences the way you behave," said Thurber of the book's central thesis. "Even though you have a unified party government, with a very conflictual situation, it's hard to cooperate sometimes - as we've seen with President Trump."
On the panel joining Thurber was co-editor, Jordan Tama, associate professor in the AU School of International Service; Patrick Griffin, academic director of the Public Affairs and Advocacy Institute at AU; and David Karol, associate professor of government at the University of Maryland.
While much attention is paid to partisan polarization in American politics, Tama explained the need to understand the tension between the executive and legislative branch regardless of party. The president has an incentive to think more broadly about national welfare, but members of Congress are accountable to their districts and often act to protect more parochial concerns.
"Trump is struggling to work effectively with the Republican leadership to get his agenda through Congress - partly because of Trump's personality and leadership shortcomings," said Tama. "But this relationship is never a cake walk even for a perfect president."
Since many Washington elites find Trump "boorish" or they don't look at history, Griffin suggested Trump has been treated harshly by those assessing his early performance. Other campaigns have stumbled in their first year putting together government.
"We were pretty messy in terms of managing that challenge," said Griffin of his work with the Clinton administration. "We had minor successes in our first year, but we didn't find our groove until we got a divided government. Although there have been no major legislative accomplishments, Trump is leaving an imprint on environmental and energy policy, labor regulations and immigration."
The panelists discussed Trump's recent effort to collaborate with the House leadership on a solution to the plight of young immigrants with Deferred Action for Childhood Arrivals (DACA) status. But Thurber cautioned, "One point does not a trend make."
Griffin said it's not surprising that Trump is reaching across the aisle, but his tactics are unpredictable.
"His strategy is to keep people guessing. He has a tendency to be impulsive. That's what his game is," said Griffin.
Karol said the Trump administration has been unsuccessful passing legislation and getting officials confirmed compared to other recent administrations. While Trump's unique style sets him apart from any other president, the drama has been building. Karol noted, "The tension between parties and within the parties predates him. In some ways, he is a symptom, as much as a cause of the tension."
Whether Trump's violation of presidential norms will be lasting or fleeting has yet to be determined. The state of the economy in an election year, historically, sways whether an incumbent president is re-elected, said Barker. "If he does not win reelection, all of this gets remembered as an embarrassment, but if he wins, this becomes the new norm."
Attending the event, Jackson Frost (SPA/MA '19), a graduate student in political communication, said he learned more about how the two branches interact and gained some perspective on the transition to power. "I realize while the Trump administration is a beast all of its own, you can see components of this historical chaos in the opening stage of other administrations."
Casey Miller (SPA/BA '18), came to the forum with her public policy class. "Learning about Congressional structure in class and then having a real-life experience discussing Trump's relationship with Congress is really interesting," she said. "It's helpful for me to understand the foundation with current events."