On Campus
Eyewitness to the Rise of Women in American Politics Event welcomes EMILY's List Founder Ellen Malcolm and Senator Dianne Feinstein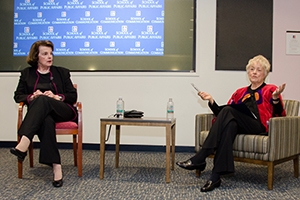 On April 6th, EMILY's List Founder Ellen Malcolm and Sen. Dianne Feinstein discussed the rise of women in politics during a special event at American University. The conversation was part of a series organized by the School of Public Affairs and the School of Communication leading up to the 2016 presidential election.
Malcolm, who is the founder of EMILY's List (which stands for "Early Money Is Like Yeast") and author of the new book When Women Win, started her career when there were virtually no women in Congress. Feinstein has represented California in the U.S. Senate since 1992. She has long attributed her success to support from EMILY's List, which raised money to help her win her first race. "I owe that election to EMILY's LIST," she said.
In the 1980s, the Democratic Party didn't take women candidates seriously because they had too little financial backing. In 1986, there were only 12 Democratic women in the House and not one in the Senate. During that time, women saw through some of the toughest political contests of the past three decades. But EMILY's List changed that by seeking funds directly from women voters. The organization has since helped elect 19 women to the Senate and 110 women to the House – as well as 19 governors to office.
"It was women who gave former speaker of the house, Nancy Pelosi, the political base to become the most powerful woman in history," said Malcolm.
"When women vote, women win," said Feinstein, who was the first woman mayor of San Francisco.
During the event, Feinstein mentioned her authorship of the 1994 Federal Assault Weapons Ban, which expired in 2004. She said that in 2013, during the aftermath of the shooting at Sandy Hook Elementary School, Feinstein introduced a new assault weapons bill, which failed to pass.
"If you ask me what my greatest disappointment was, it was that," said Feinstein.
The event honored Dotty Lynch, a political journalist, pollster, and beloved AU faculty member. Lynch was the inaugural director of AU's Masters in Political Communication program that is jointly run by SOC and SPA.